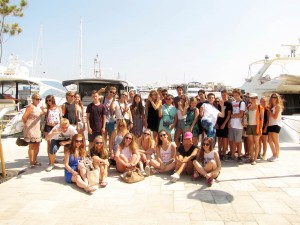 The English Sunny School of Cyprus was founded in 2000 and was the first international summer school in Cyprus.
The school has been offering English language learning to international students in Cyprus for 16 years. The school is based on the concept that lessons can be fun and interesting whilst being dynamic and educational too.
All the native English speaking teachers are fully qualified and have a lot of experience with teaching mixed- nationality courses. They are able to take full advantage of the inter-cultural potential of their students and they encourage co-operation and communication. Nationalities are mixed so that interaction in the lesson is always in English.
Since 2016, the school has upgraded the summer camp now has a new residence and school building.
English courses in Cyprus
English Sunny School provides stimulating and effective language programmes which meet the needs and requirements of our international students.
One of our main objectives is for the students to learn to co-operate with others and to develop a variety of language and social skills through innovative and modern methods.
Students find the lessons fun and inspiring because they are conducted in a very different manner to what they are used to at school. They learn to communicate and interact with people from other countries and other cultures. This leads to mutual understanding and tolerance towards others and strong friendships are created which continue, even after the students leave Cyprus.
Summer camp in Cyprus
You can find a variety of new programmes at the English Sunny School during the year, as well as creating new study and activity programmes for summer.
Students stay in the 3-star hotel, situated right on the beach in Limassol. All facilities such as kiosks, coffee shops, restaurants and night-life are just a short walk away as we are based in the main tourist area of the city. The new school premises are located close to the hotel, only 4 minutes walk away!
Due to the fact that Cyprus was a British colony and nearly everyone speaks English, this sea island is the best place to combine study with a great holiday!
There are courses in the school for:
Juniors (6-10 years old)

Teens (11-18 years old)
Summer camp for Teenagers
Fun English
IELTS
Adults
General English
Business English
IELTS
English for specific proposes
English and conferences
Other languages
Parent & Child
English language lessons via Skype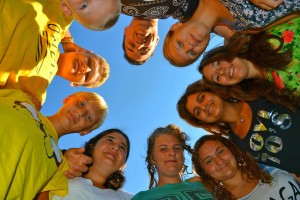 English Sunny School also offers other languages courses for closed groups, or as individual lessons one-to-one in Limassol, Larnaca, Nicosia or on-line via Skype.
Long term lessons for business people are available all year round and the teacher will come to the company offices or hotel and conduct individual or group lessons.
The course content can be tailored to the specific needs of the students involved, and exam preparation is also available.
Photo Gallery