What Is Cyprus Land?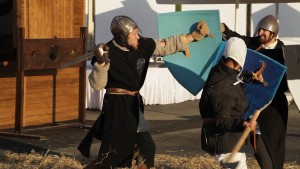 Do you want to learn more about Cyprus, get acquainted with its culture, traditions, crafts, many of which were go back to the Middle Ages? Do you like to spend your free time having fun whilst learning something ? Тhen this is the place to go!
Cyprus Land is a space located in the centre of Limassol measuring 5,000 sq. m, which displays traditional Cypriot crafts and local products.
Тraditional Crafts in Cyprus
Shops which show the olive oil and honey production process, alongside Cypriot embroidery and mosaics, a wine shop, in fact a whole village of crafts, are on show in Cyprus Land.
As well as the area showing the production processes and skills, which have been accumulated through centuries in Cypriot villages. There is a square in the centre where tournaments between knights wielding medieval arms are shown, and also Cypriot folk dance groups give shows from time to time.
You can also enjoy the romantic era of noble knights and beautiful ladies by vising an arms room and a blacksmith's shop. Many of the suits of amour and armaments presented on stands can be touched, held and tried on. Those who wish to do so can participate in a master class in fencing with medieval weapons.
A stable with cuddly ponies and a game yard in the form of a medieval fortress are open for the younger visitors. All sectors of the exhibition are planned in such a way that when you walk or play on the grounds of Cyprus Land, children can have fun whilst learning new things.
Historical Atlas
Placed right in the middle of Cyprus Land is the Central Exhibition exposition of the history of Cyprus, which represents the key sights of Cyprus built in the period of Middle Ages in miniature. Children and grownups, tourists and local inhabitants can dive into the Cypriot history for 30 minutes and replenish their knowledge of the island with interesting facts.
All visitors to Cyprus Land will be able not only to get acquainted with the local color, try traditional local dishes, but also watch interesting production processes by the craftsmen and peasants.
The varied program of Cyprus Land is planned in such a way that on any day of the week for a whole day visitors can go to the village and discover many interesting things about the culture of Cyprus and have fun day out with the family.