Depcon Construction Ltd offers a great number of professional construction services in Cyprus.
The company is well-known among their customers and local manufacturing industry representatives for having a vast expertise in different construction areas and offering a top quality services within the agreed budget.
About Depcon Construction Ltd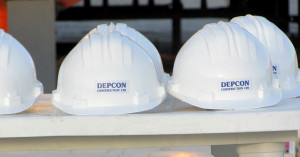 Depcon Construction Ltd started its business in 1992 and is obtained a registeration certificate from the Counsil for the registration and Control of building and Civil Engineering Contractors. From the very beginning the company demonstrated professional approach and was increasing the volume of work and number of projects, slowly becoming an independent and financially stable enterprise.
Today Depcon Construction Ltd is rated "A" class company, primarily dealing with multi-floor building and church construction, as well as construction of luxury homes and factories.
One of the main long-term goals of the company is to ensure high quality services, effective operations of the company, as well as continue being one of the top active player in Cyprus construction industry. The company is also dedicated to strengthen its professional reputation, continue gaining trust of customers, as well as ensuring full observation of safety and health norms and comfort of company's employees.
Depcon Construction Ltd is a member of the following organisations:
Technical Chamber of Cyprus;
Federation of Associations of Building Contractors Cyprus (O.S.E.O.K.);
Counsil for the registration and Control of building and Civil Engineering Contractors;
Cyprus Association for Quality;
Cyprus Employers & Industrialists Federation (OEB);
Cyprus Waste Management Organisation.
Construction services in Cyprus
Depcon Construction Ltd specializes in the following areas:
project and design of public buildings;
restoration and renewal;
home renovation;
construction of office buildings and showrooms;
construction of residential buildings;
construction of churches.
Contacts
Phone: +357 22430932
E-mail:  

[email protected]

Address: 231 Strovolos Ave., 2nd Floor, Office 201, 2048 Strovolos, Nicosia, Cyprus