Londa Fitness Club is equipped with various types of fitness equipment and free weights.
It is open from 6.00 to 23.00, so neither the "early birds" nor the "night owls" can complain.
The annual membership for the gym and spa includes the use of the sauna and steam steam bath, as well as the beach and the outdoor pool.
If you follow the various promotions on Londa's website or social media, you can catch great offers.
Londa Spa is a realm of harmony, peace and beauty. High quality cosmetics of the world famous brands Elemis and Thalgo are used in massages, skin rejuvenation treatments, weight loss and overall body health improvement programs, wellness and relaxation packages for face and body, anti-aging care and other pleasant and beneficial treatments (cost from €60 to €170). Highly trained professional therapists with extensive experience will help you select a treatment which is tailored to your needs.
The cosmetic brand Elemis is used in the most exquisite hotels and spa centers in the world (for example in the famous Burj Al Arab and Jumeirah in the UAE).
You will be amazed with the positive results of these products. Experts at the Londa Spa will help you choose the products for home care or a traveling set of mini-products (creams cost €100-150 euros, travelling sets cost €70-300).
What do we expect from the spa?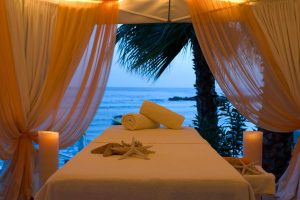 Improvement, rejuvenation, younger and healthier appearance, pleasant physical sensations – you can have all these and much more at the Londa spa.
Relaxing massages, along with body peelings and body wraps, cleansing and rejuvenating facial treatments, special detox packages, body cleansing, weight loss and fight against loathed cellulite, or a feeling of a fit and healthy body and smooth skin are among some of your options when you let yourself in the hands of the experts.
One of the greatest pleasures after an intense workout is to relax in a hot Finnish sauna (or a humid Roman steam room), swim, and afterwards close your eyes and let your body feel weightless in the gentle whirlpool bubbles of the jacuzzi.
If you are going through a difficult period in your life, if stress draws you deeper, treat yourself with something nice – try the anti-stress treatment. In a few hours you will feel reborn.
To achieve full nirvana, take any of the spa treatments.
My experience at the Londa Spa
Being a fan of a healthy lifestyle, I can't imagine a day without exercising. And, as any woman, I really like to pamper myself with spa treatments that have a beneficial effect on the appearance and help me find balance in my thoughts and feelings.
Mind, body & soul – that's what I would call the concept of the fitness club and spa of Londa hotel. Here, with the help of the skilled professionals, you will be able to keep your body in shape – and this is extremely important because, as they say "being determines consciousness" – while adjusting thoughts and feelings towards positivity, harmony, and happiness…
I have chosen a deep tissue massage (Freestyle Deep Tissue Massage, €100). The description says that this massage helps to get rid of unpleasant sensations in the muscles, provides complete relaxation, neutralizes stress and restores emotional balance. I confirm: yes, it does!
An hour later, I got up from the massage couch in a brand-new body – so light, and with new thoughts: the stress had gone, negative emotions were eliminated, the endless internal dialogue had stopped…
Dim light, candles, a delicate smell of refined essential oils, skillful hands of an experienced masseuse – she managed to identify the problems of my long-suffering back, badly affected by the many hours of the daily work on the computer.
At first, the massage was quite intense, with a slightly painful sensation on the problem areas, which were thoughtfully massaged by the strong hands of the masseuse. After a few minutes, this sensation was replaced by complete relaxation, and the imaginary "corset" around my back finally opened up and allowed me to straighten my shoulders.
During the massage, the masseuse asked me about the intensity of the massage at the different zones, whether I liked the smell of the oils she used, she checked how I felt, and I literally felt stress and fatigue leaving my body, tense muscles relaxing and all my negative emotions getting replaced by bliss and pleasure.
The last twenty minutes were so relaxing and soothing that I nearly slept. The voice of the masseuse brought me back to reality: "We are finished, you can dress."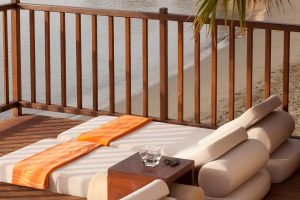 I spread my body on a chaise longue by the pool, making myself some herbal tea – the hotel provides everything necessary for making cold and hot drinks, since it is necessary to restore hydra balance after physical activities and sauna. I closed my eyes to soft music and the murmur of water… Bliss.
A few hours in the spa passed so quickly. I would like to express my sincere gratitude to the spa staff.
Amazing job, I will definitely be back, and more than once!
And after the beach, sports and spa, the time comes for hedonistic pleasures. I started feeling hungry so I went to my room, got dressed and went to the Caprice restaurant – one of the best restaurants in Limassol.