Having visited the ancient city of Paleo Paphos and seen the old church of the Most Holy Mother of God, Panhagia Katoliki, we are going to the mountains, to the village of Archimandrita.
On the way we make a stop at a church and then move further on to the final point of our journey, the priory of Holy Fathers, to Pano (upper) Archimandrita – point D on our pilgrim's map.
The village of Archimandrita
The road climbs steeply upwards. The windmills of the power station seem huge at close proximity. The road twists and turns and the picturesque mountain valleys are a constant distraction for the driver.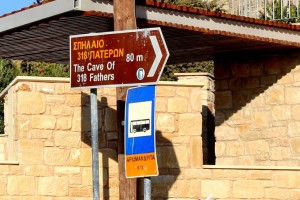 We are entering the village of Archimandrita. This is a monastic order. In ancient times Archimandrita was chosen by the hegumens (abbots) to control the activities of several convents, and sometimes all the monasteries, in a diocese.
The area around the village of Kouklia has always been famous for its great number of monks and hermits, as there are many places that are far removed from civilization and are perfect for a life of seclusion and prayer.  According to one of the local legends, Saint Neophytos, of whose convent we have written, worked in this area.
In the centre of the village, next to a bus stop, you will see a sign which reads 'Cave of 318 Fathers, 80m'.  This is the final point of our journey.  You can park here and continue on foot.  Turn on to a narrow road to the right and go back up along the narrow road.  After 80m the road ends and a narrow path and steps will lead you further.
A wonderful panorama of the mountain valley will open up before you.
A priory of Holy Fathers
There is an area below and next to it is the entrance to the priory, located in a mountain cave.  318 Holy Fathers are the participants of the first Ecumenical Council which lay the foundations of the fight for pure faith and the freedom of church teaching from heresy.  All members of the council were beautified by the church, and the priory was consecrated in honour of them.
The priory is tiny – several steps, a low whitewashed dome, niches hollowed out of the stone where candles, incense and coal were placed.  A few 14th century frescos are preserved here.
The place is steeped in stillness and tranquility and you do not want to leave it.
On our way back we can sit in the small picnic area and the children will have fun on the swings and slides.
It will take about 15 minutes to get back down to the sea and home, where we can look at the photos we took of our journey.