History of the Coralo Group
Coralo Group is a leading group of companies in Cyprus, founded by Andreas Hadjiharalambous. For more than 30 years the company has specialized in the construction and sale of plots, apartments, villas and commercial properties in Paphos, in the popular tourist areas of Coral Bay and St. George.
Great views of Paphos harbour and the Mediterranean, comfortable and individually designed projects of homes and office buildings, attract the attention of investors who were among the first to purchase property from the Coralo Group in these scenic areas.
Coralo Group Projects in Cyprus
The portfolio of the Coralo Group contains more than 280 house designs, each of them built according to a separate project, with quality materials and 100% customer satisfaction.
The company offers for your consideration:
Completed turnkey projects;
Projects in various stages of construction;
Projects by individual inquiries.
In 2008 the Coralo Group joined with new team members, which strengthened the desire to achieve even higher goals in the construction and sale of real estate in Cyprus.
Construction of villas ​​in the Peyia area following individual projects
Peyia is a combination of quiet country life with a developed infrastructure nearby. The Coralo Group offers 15 luxury villas on a plot of 8,000 square metres in the village of Peyia. These are ready-made and at various stages of construction, which can be further developed in accordance to the owner's requirements.
General Characteristics of the villas:
Area – from 1340 to 8000 square metres;
Area of villa – from 134 square metres;
Number of rooms – from 4 to 12;
Swimming pool and parking;
Within walking distance of Coral Bay beach;
15-20 minutes drive from Paphos and Latchi-Polis;
Prices range from €500,000 to €4 million.
All properties in the Peyia area have Titles Deeds and are ready for transfer of ownership.
Architect and designer services
When ordering individual villas, the Coralo Group offers its clients the opportunity to build a dream house of unique design, based on their own ideas and requirements.
You can submit your own designs and the company's experienced architects and designers will help you create your vision, and three-dimensional computer graphics will give you a visual representation of your future home.
There will be a project manager to personally assist you, from site selection up to the moment of handing over the keys.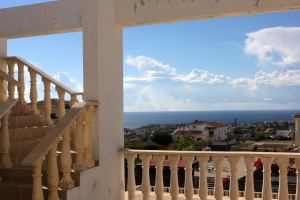 The specialists at Coralo Group also offer free help in choosing:
Interior design and furniture;
Kitchen utensils;
Electrical appliances;
Solutions for the improvement of your plot area;
Garden design.
Services are also available for garden and swimming pool maintenance.
Offers from Coralo Group
The cost of finished houses (wood, granite, jacuzzi):
Project 1 + Project 4 + Project 5 = 4 million 500 thousand Euros.
Project 2 +Project 3 +Project 6 + Project 7 = 4 million Euros.
For more information on the sites being constructed and offers, contact the company representatives of the Coralo Group in Cyprus.
Villa Meltemi
Indoor Space
Six Bedrooms + Office or Playroom or seventh bedroom
Master bedroom on suit (with Jacuzzi)
Second on suit bedroom (with shower)
Three bathrooms
Furnished
Central Heating
Six rooms include air conditions (A.C.)
Two fully functional kitchens (including electrical appliances)
Bar area and large Gaming space
Home cinema (including led features and ceiling A.C. unit)
Two dining areas
Two formal sitting areas
Main switch boards (controlling internal – external lighting)
Design roofs with spot lighting
Machinery room
Internal cover area approx. 560 m²
External space
Plot Size 1480 m²
Covered Verandas area approx. 100 m²
Uncovered verandas area approx. 100 m²
Weaved design covered verandas approx. 200 m²
Pool patio area approx. 250 m²
Design Pool shape (Fish) with glass tiles and salt water
Fully functional pool kiosk (including surround music)
Fully grown – automated garden including features (two different kinds of waterfalls, ancient roman pots)
Parking space for three cars.
Electric sliding gate (remote)
Contacts:
Address: 6 Renou & Pygmalionos Street, Paphos, Cyprus
Теl.: +357 26 934310, +357 99 603898
Fax: +357 26 364320
E-mail: [email protected]
www.coralogroup.com
Working hours:
Monday — Friday: 09:00 — 21:00