Athinoula Leonidou Yiaskouri Pharmacy is located near Limassol Medical  Centre "Linopetra" at 43 Kolonakiou St.
The owner — Athinoula Leonidou Yiaskouri – is a pharmacist with 38 years of working experience.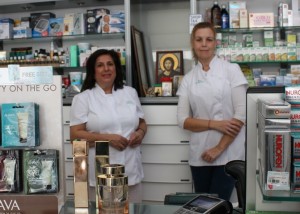 The pharmacists working in Athinoula Leonidou Yiaskouri Pharmacy speak five languages: Russian, Greek, English, French and Italian, and will always advise visitors and help them find the pharmaceuticals and cosmetics they need.
Services:
Sale and preparation of prescribed medications;
blood pressure measurement;
blood sugar level measurement;
advice on medication intake, contraindications and interaction with other drugs;
for loyal customers (of cosmetics), we offer one 30-minute free body care procedure every month;
ear piercing;
test makeup.
Products:
Pharmaceutical drugs;
Food supplements: Solgar, A. Vogel, Health Aid, Lamberts, Now, Higher Nature, Terra Nova, Vitabiotics, etc.
Organic/natural products;
Perfumery: MichaelKors, Versace, Givenchy, Trussardi, Burberry, JimmyChoo, Mont Blanc, Moschino, G. Ferre, Kenzo, Azzaro.
Cosmetics: Darphin, Ahava, Korres, Apivita, La Roche Posay, Avene, Vichy ,Nuxe,Uriage.
Makeup: Erre Due, Korres, Leciel, Deborah, Mavala, Eveline.
Hair care products: RENE FURTERER, Anivagene.
Baby products and baby nutrition.
Newest generation medical devices for health monitoring.
Sports medicine products.
Foot care products and orthopaedic shoes: Scholl , Parex, Walk me shoes.
Donkey milk:
Donkey milk contains antioxidants, omega-3, omega-6, and large amounts of calcium, vitamins and minerals.
Donkey milk also contains lipolytic enzymes that break down fat molecules. That is why donkey milk is a healthy beverage at the end of a meal. Besides, donkey milk is great for satisfying hunger while giving your body a long-lasting satiety feeling.
Consuming donkey milk contributes to the recovery of the gastrointestinal flora, purification of the body and strengthening of immunity.
You can buy this unique product at our pharmacy.
Our advantages:
A wide range of more than 15,000 health and beauty products;
Quality assurance: only certified products are available at our pharmacy.
Strict control of shelf life, storage and transport conditions is observed;
Highly skilled pharmacists;
A tax-free arrangement service is provided for purchases of more than EUR 50 (Standard VAT rate: 19%).
We cooperate with BUPA International Insurance Company.
15% discount for cosmetics for Cyprus Inform cardholders!