Garden Centre Agriplant Gardens is one of the largest gardening centres in Cyprus, as evidenced by the following:
the company produces, imports and sells all kinds of plants and trees;
the company designs and creates both regular gardens and large projects of public significance (Оlympic Residence, Limassol Маrina and others);
the company offers technical service and also landscapes gardens and parks all around the island.
The company was established in 1993 and has accumulated significant experience over the years, whilst its specialists have all the necessary skills to satisfy the needs of each client regardless of the size of the project.
The garden centre is located close to the cadastral registry building.
The Agriplant Gardens garden centre offers various plants and trees, more than 10 types of soil for flowers, pots of various sizes and materials, fertilizers, seeds, gаrden tools, pesticides, gravel and much more. Here professional florists can create wonderful flower arrangements for you.
The Agriplant Gardens garden centre guarantee good quality service.
Landscape gardening and design in Cyprus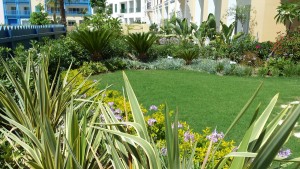 Landscape gardening or design with the artful positioning of elements in space is very popular amongst clients of the Agriplant Garden garden centre.
Landscape gardening and landscape design can be done with the use of soft (lawn, plants and soil) and hard (watering systems, stones, ponds, paths, etc.) elements.
The range of landscape gardening services in Cyprus
All the hard work will be done for you once you have chosen Agriplant Gardens for landscaping your garden or creating a landscape design:
Сompany specialists will visit to assess the size of the plot for landscape and design purposes, check the quality of soil, etc.
Professional employees will draft out several landscape plans in accordance with the client's requirements, and present pictures of plants and trees with their characteristics and service requirements. They will also offer decorative materials for ornaments. Clients can also choose plants themselves in the exhibition hall in Limassol.
After plants have been chosen and the draft approved, a final calculation will be presented.
When using the services of the Agriplant Gardens garden centre, you can be sure to save both time and money as the company offers plants and trees at competitive prices thanks to a large volume of purchases and well established connections with suppliers.
Photo Gallery