The first home-ware shops of A&G KLEIMA LTD appeared in Cyprus in 1991. The owners opened 2 retail outlets in Lаrnaca, оne of which dealt in the sales of domestic appliances, while the second sold furniture.
Management of the network organized one large shop to better satisfy customer demand and create a comfortable retail space 14 years later. In 2005, the hypermarket was moved to a four-storey building measuring 4,500 sq. m in Aradippou.
The retail space of A&G KLEIMA LTD is considered to be one of the largest amongst Cypriot shops. A spacious parking lot for customers is also available here.
In 2010 another new hypermarket was opened in Latsia on an area measuring 960 sq. m. Good quality service to customers has always been the top priority for management of the hypermarket and this is why a specially trained team of 80 shop assistants, consultants and technical specialists are ready to give clients professional assistance.
A&G KLEIMA LTD hypermarkets present a very wide product range at competitive prices in such categories asк:
furniture for house, garden and verandas;
domestic appliances and game consoles of internationally acclaimed brands;
instruments and construction goods;
home accessories;
stationery;
goods for pets;
seasonal goods;
goods for travelling and picnics;
cosmetics departments Perfect U (a wide range of face and body care goods, services of a makeup artist as well as a wide range of perfumes and accessories are presented in the cosmetics shop).
Special offer
You can view the catalogue HERE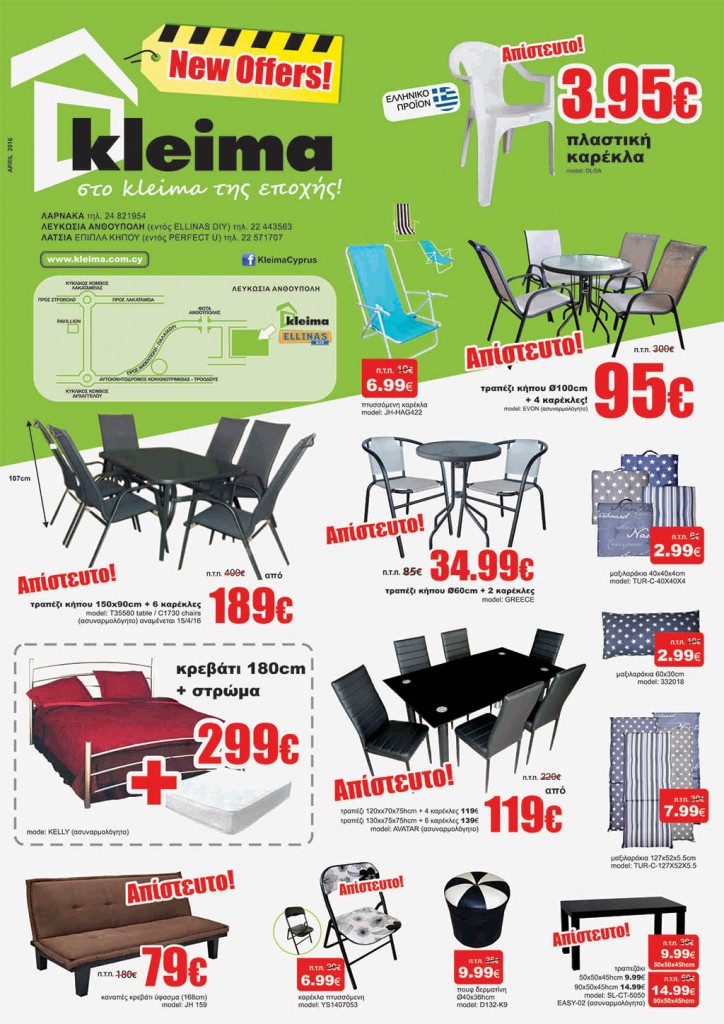 Photo Gallery