Find you inspiration in the wedding dress show room Nicola Creations in Limassol
Elena Konstantinou, the owner and founder of the wedding dress show room, has been in the fashion industry for 15 years. After completion of specialized courses for designers and gaining valuable working experience for 9 years in Greece, Elena has opened the doors of her show room for brides-to-be in Cyprus 6 years ago.
Due to her significant experience, not only can she propose the wedding image of a bride, but also serve as inspiration for new ideas. Additionally, Elena provides free advice on choosing a suit for the future grooms to ensure that newlyweds will form a perfect match on their special day.
From sketches to masterpiece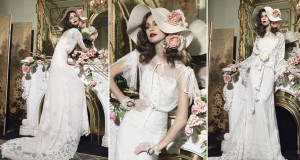 The whole process of bringing the ideas into life takes approximately from 6 months to 1 year.
Creation of a wedding dress at the Nicola Creations in Limassol is treated as the birth of a child – all the finer details are carefully selected in order to create a unique image of a bride and highlight her best features.
Custom wedding dresses in Cyprus
During the process of individual making of the wedding dress at the Nicola Creations, the customers have an opportunity to order exclusive materials- flowers, laces and fabrics can be sent from any country in the EU for the preliminary quality assessment.
At the Nicola Creations the final fitting of the bride's appearance is strongly emphasized- the bride is offered to try the make-up, hairstyle, dewing dress and accessories before the wedding day to ensure the complete piece of mind on the most important day in the life of the young couple.

Prices for tailoring the wedding dresses in Cyprus
The  prices for a wedding dress vary depending on the choice of fabrics, the complexity of tailoring and cost of jewelry. Therefore there is no upper limit as such, but on average, the wedding dress will cost at least 700 euros.
It is also possible to hire a dress – 95% of dresses, listed on the official website of the showroom are for rent.
Collections of the wedding dresses in Cyprus
In addition to creating wedding dresses, the showroom cooperates with the designers from Greece, France, Italy and Spain. The result of their cooperation is the collection of wedding and evening dresses.
Franc Sarabia collection
Grupo Higar collection
Manu Alvarez collection
Promotions
There is an annual discount scheme called «BAZAR». For more information about the scheme, please contact: Katsantonaion 7C, Kato Polemidia, 4151 Limassol, Cyprus.
Create your own unique wedding appearance in Cyprus with the Nicola Creations to shine on the most special day in your life!
Photo Gallery