After 10 years of experience in the landscaping industry, Mr. Titos Petrides founded the landscape design company, T.P. Green Architecture Company Ltd., in 2003.
The success of T.P. Green Architecture is largely due to the fact that it offers its customers a full range of services, from the very beginning of the project (all phases of design, planning, and construction), to completion, including subsequent maintenance.
T.P. Green Architecture is engaged in the landscape design of a wide range of projects, from small residential landscapes and gardens to large projects such as public parks, hotels and municipal projects.
Services of T.P. Green Architecture:
Landscape design;
Landscape construction;
Garden maintenance & services;
Irrigation systems.
Landscape design in Cyprus
Based on extensive knowledge and experience, and taking into account the specifics of the company's specialists, T.P. individual space Green Architecture develop and create unique open landscapes, meeting all modern requirements and creating harmony with nature.
Creative designs reflect individuality, and the requirements and suitability of each location are taken into account. T.P. Green Architecture creates spaces that leave indelible impressions.
Landscape Construction in Cyprus
When creating new projects, T.P. Green Architecture adheres to consistency, thoroughness and creativity in their work.
100% successful results achieved:
Competent advice when choosing plants. (Based on each client's preference);
Regular monitoring at all stages of the landscaping;
Personally present at all stages of configuration and planting of green area.
Garden maintenance & services in Cyprus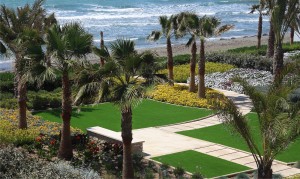 T.P. Green Architecture offers gardeners to care for gardens in Cyprus.
This professional gardening company has the experience and knowledge to support and preserve any green space in excellent condition. Experts from T.P. Green Architecture will provide your garden with the opportunity to expand and grow, as well as offer the best solutions to preserve the natural beauty and meet all the needs of the green spaces.
Irrigation systems in Cyprus
The proper irrigation system will support the beauty of any garden, and will promote the development of the green space.
Knowledge, experience and responsibility of the specialists at T.P. Green Architecture in this area ensure the proper design and installation of irrigation systems of any complexity.
Photo Gallery