Dear brides and grooms to be, the team of Cyprus Inform are happy to welcome you to our website!
A wonderful and exciting day will soon come, your wedding day. We are ready to turn this event into an unforgettable moment in your life, because a wedding in Cyprus is a fairytale.
The Cyprus Inform team will take over all organizational issues from you with pleasure and will look after all the necessary details to enable you to enjoy the best day of your life!
What more could you ask for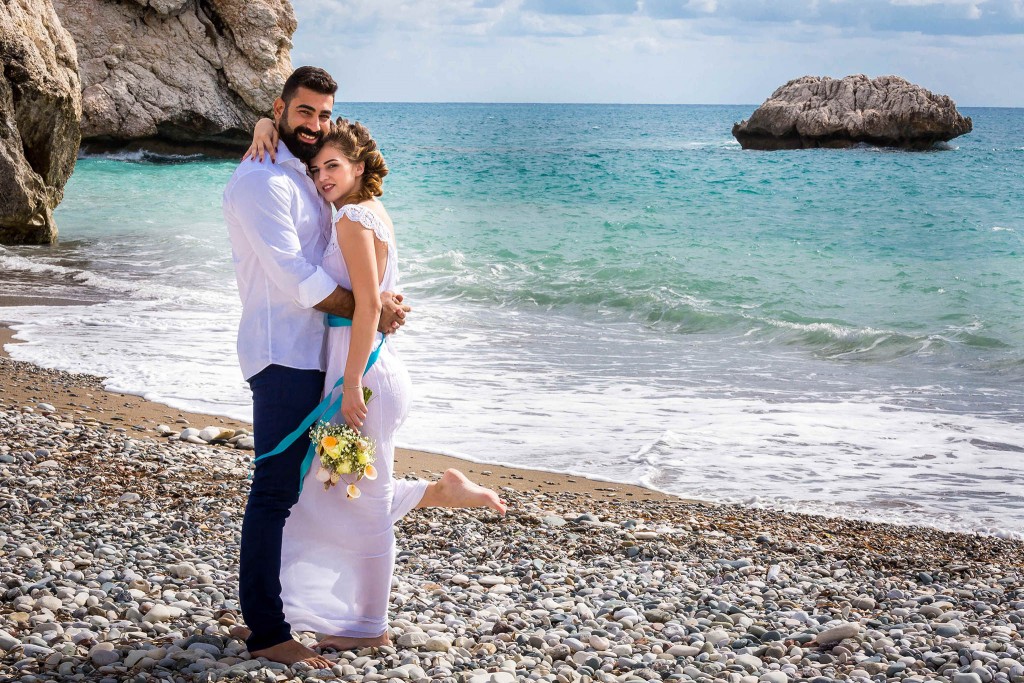 With wonderful weather all year round, picturesque seascapes with a sunset backdrop, the quiet and laid back atmosphere of this heavenly island all help to create a unique atmosphere for the best event in your life, a wedding, your wedding in Cyprus.
It may be a formal wedding with a large number of guests, a one-year anniversary of a church wedding for a limited group of friends, or maybe a 'second' wedding, a ceremony for two, a small and private affair, or maybe a symbolic ceremony, a renewal of vows which will take the couple back in time resurrecting old emotions and feelings.
Cyprus is perfect for these special events, it has the entire infrastructure: first rate hotels, wonderful photographers, romantic settings, magnificent wine and a warm and balmy climate, and of course our services from Cyprus Inform which have stood the test of time!
Wedding ceremony
The pivotal event of any wedding is the wedding ceremony. Be it civil, Orthodox or a symbolic event.
During a symbolic ceremony you do not need official documents and does not take place in the church. Your hearts and memories will hold and keep this special event forever, the main thing is that there is love between the couple as well as a wish to stay true to one another and confirm your promises sealing them with a kiss!
For Christians the church mystery of a Wedding Ceremony will be carried out according to the Orthodox rites. An Orthodox priest will perform the church ceremony, and you will become a husband and wife in front of God. It should be noted that the Orthodox Church of Cyprus and the Russian Orthodox Church are in full communion, and any Mystery performed by a Cypriot priest is acknowledged by the Russian Church.
And finally a civil ceremony may take place with participation of an official representative of the Cyprus government, who will marry the couple to be, and issue them with their marriage certificate.
All necessary documents should be provided beforehand.

You will need:
A passport;
A birth certificate (a certified translation into English);
A certificate of no impediment to marriage (a certified translation with an apostille);
Copies of witness' passports.
Creative ideas and concepts
A wedding is one of the most important events in everybody's life. How should it be celebrated so that you will remember it for the rest of your life? Many people think about it, but only the most courageous have the heart to do something, something… Incredible! Imagine…
Perhaps you would like to create a fairytale or a scene from a James Bond movie, we can do this for you, something totally different, take a look at our next scenario this is the type of thing we can arrange for you we have the contacts, and the knowhow!
A loving couple comes to Cyprus for a holiday. This girl is off for a holiday with her beloved and has no clue that a real adventure is waiting for her on the island of love!
In the morning, the lovers go the Stone of Aphrodite after a breakfast at their hotel. They would leave their car in a parking lot and would walk along the sea shore. All of a sudden it occurs to the young man that he had left his phone in the car and goes away, literally for 5 minutes.
Once the man has left his companion, a noisy group of people appear on the shore: the guys start to make passes at the girl and generally harass her; there is no beloved protector near and all of a sudden…
The noise of an approaching helicopter is heard. The rotary-wing machine hovers over the shore, the long-awaited protector jumps down on to the ground and disperses the bullies. Waiters, a table, a white cloth, a bunch of flowers, cold champagne and a small velvet box with a gold ring appear from nowhere.
– I love you, darling! I love you and I want you to become my wife… These words are so simple but they will change your whole life, tie your souls and futures together.
We can make any of your whims come true, a ring, which a man in love would get from the bottom of the sea after diving from a showy white yacht, or maybe a yacht cruise to Israel or to Greek islands, everything is possible.
Cyprus' best hotels, presidential apartments, restaurants in picturesque places, rented villas near the sea or in the mountains offer their services to brides to be, newly-weds and their guests.
And the key thing: first-rate service from Cyprus Inform, including transport, photographer's services, a script of the event, a wedding ceremony of a chosen format, and implementation of the festival and a party to celebrate.
Favorite wedding formats
A one-day wedding
Some romantic people organize a one-day wedding so that they do not have to wait in a queue to a Russian or English registry office and also to have an unforgettable ceremony.
They come to Cyprus and the couple registers their marriage and compiles all necessary documents on the same day. The next day, after a celebratory dinner and the first wedding night in hotel room, the newly-weds return to the UK / Russia with their wedding rings on their fingers.
Mixed wedding
Registration of marriage between a Russian citizen and a citizen of another state is linked with a number of formalities, which can be avoided by registering marriage in Cyprus. The island has a much more liberal legislation, but a marriage registered in Cyprus is acknowledged both in Russia and in any European Union country.
Wedding ceremony and holiday
One of the best scenarios is when a wedding on Cyprus turns into a honeymoon on this heavenly island. Newly-weds have a whole island full of sights, romantic places, wonderful hotels and the possibility of organizing sea cruises at their service. Not only newly-weds, but also their family and friends will feel comfortable here. A journey to Cyprus is always a trip to an island which has good weather, where the sun shines and fairytale sunsets tinge life with new colors.
Weddings in ancient churches
Cyprus is one of the Orthodox centers. Unique churches and monasteries, which are amongst the greatest sanctuaries of the Orthodox world, can be found here.
Wedding in Cyprus may become the greatest event for believers and leave them with the most happy and glorious memories for the rest of their lives. Sometimes older couples prefer to get married in a church ceremony, and this ceremony can be held in Cyprus, in the quiet of a mountain church, alone with nature a perfect solution to those who wish for something more personal and private.
Fairytale concepts
We have many possible ways to organize an unforgettable ceremony. A Wedding on the Mediterranean sea on a pirate ship, on a secluded sea shore, on board a sailing yacht, or for the brave the couple place rings on each other's fingers, a passionate kiss follows, after which, holding hands they run and jump from a rock into the sea! All this is possible in Cyprus, the island of romance!
By way of conclusion
Traditionally a festive feast occurs at the end of the ceremony! It may be organized in a restaurant, in a hotel or right on the shore of the sea.
You can sit at a festively decorated table and enjoy your meal and enjoy one of the most wonderful sights on earth, when the sun slowly disappears behind the horizon accompanied by the sound of the sea and bird songs.
Couples will return here, to this heavenly island, several years later to remember the happy event. And the past years will vanish, the years of joy and difficulties, as if it was only yesterday that the magnificent couple said the precious 'yes' looking into each other's eyes, and carried the great pledges of the happy day through the years confirming the strength of their love.