In more than 15 years of operations Antaria Homes Real Estate Agency has attained a reputation of a company whose priorities are safety and quality, аs well as comfort and prosperity for both buyers and sellers of real estate.
The key advantages of the company are:
A large database of property
Antaria Homes Real Estate Agency has an extensive database of property.
Cosy studios, land plots for construction, respectable hotels, luxurious villas, restaurants – all these can be presented by the agency's specialists who will help you make an ideal choice, meeting the client's expectations and budget.
Work without intermediaries
The real estate agency works directly with sellers, it does not use intermediaries, which helps save time and money of intending buyers.

Clean title guarantees
Antaria Homes Real Estate Agency is responsible for the clean titles of all deals it strikes. Practically all sites on sale have a property title, which is one of the most important guarantees of a safe purchase of Cypriot real estate.
Full support to purchases
The real estate specialists will take over all your problems connected with a foreign property purchase. They will choose suitable options for the client beforehand, meet the client in the airport of Cyprus, put him in a hotel, offer translator services, hold an exploratory trip and help during negotiations, fill in all necessary documents, do the repairs and take over further management of a house or an apartment.
For more detailed information about the company and property click on the рresentation.
Working hours
Monday — Friday: 08:30 — 13:00 and 14:00 — 17:30
Contact data
Tel.: +357 26 101382
Mob.: +357 99 775858
Telephone for free calls: 8008 0611
Shop No 1, Apostolou Pavlou No 100, Kato Paphos, Cyprus
Albus Palace: luxury property by the sea in Cyprus
Albus Palace is a unique complex in Paphos, where architectural lines, sea, sun and healthy air create therapy for both your body and soul.
The beach is a comfortable walking distance away (about 800m), and a prestigious international Yacht Club is planned in the clear, blue waters, together with the relevant sports and entertainments.
Paved alleys, landscaping, palm trees and flowers around the pools creates a wonderful ambiance.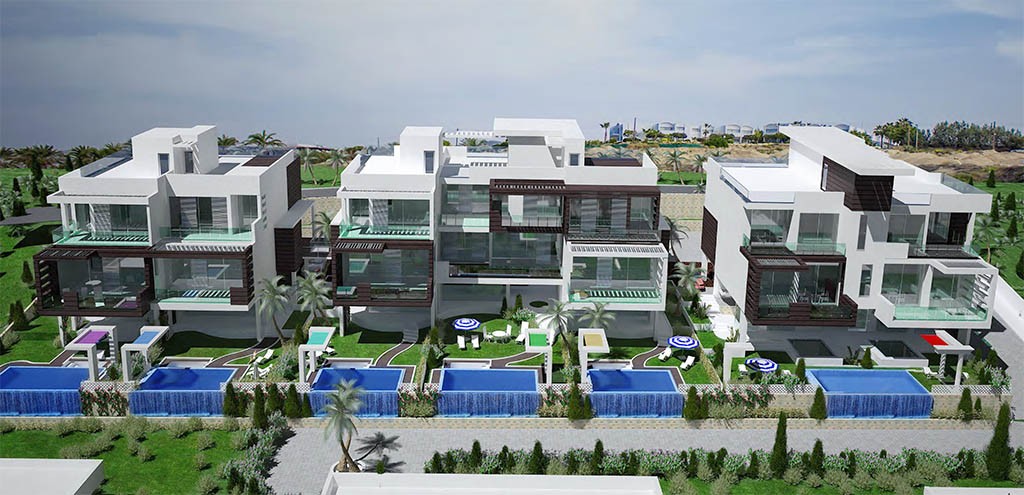 Azure Lagoon on the beach and in the complex centre
Albus Palace is just 50m from the sea. The complex is situated on the beach of a naturally formed lagoon, sheltered so that the sea is calm and warm.
As well as this, every villa has its own heated pool, which is filled with purified sea water.  Each is surrounded with greenery and beautiful pathways, creating a restful atmosphere.
Architecture of the Bird of Happiness
Albus Palace complex, with a backdrop of sea and sun, is a real Bird of Happiness.  The complex consists of 7 units and 3 different styles.
Two units have apartments with a communal entrance / exit and pool, a green zone, parking and main premises. The other 5 units are individual multi-level villas with their own parking, recreation area, a pool and bar, and a separate entrance/exit over a bridge.
The distinguishing and original feature of the complex is that all the villas are in different but harmonising colours.
Luxury interiors and technologies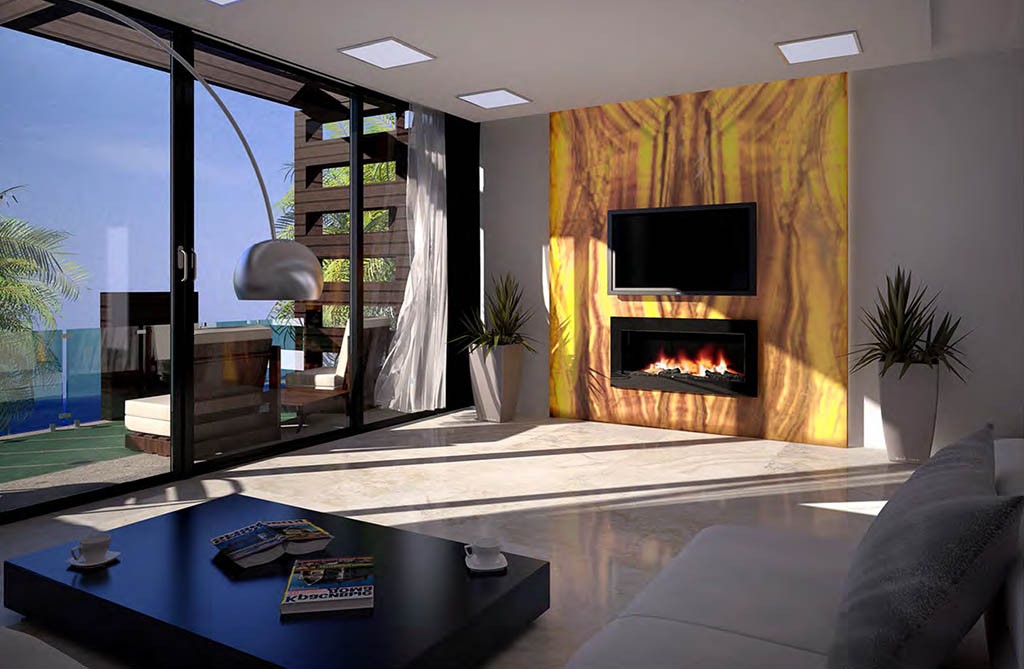 Only the best, top quality materials and ultra-modern advanced technologies are used in the construction and decoration of the apartments and villas.  For extra comfort, all the residential premises in the complex have heat insulated floors, central air conditioning and ventilation, and a SmartHouse system is installed.
The interiors in the Albus Palace complex are in the classical and modern styles and the boutiques will satisfy the tastes of those who appreciate every moment of life and elegant luxury.
Space of a beautiful life
All bedrooms are arranged as 'Master bedrooms', with an individual bathroom. Large panoramic windows have an amazing view of an azure sea.
The apartment guest area consists of a kitchen / diner and a living room leading onto a veranda. The advantage is clear zoning and harmonious design.
At the Albus Palace you will get everything at once!
Carat Club: luxury property in Paphos
Carat Club presentation is HERE
Photo Gallery