Veterinary clinic Animal Health offers to its clients the most modern treatment methods for animals in Cyprus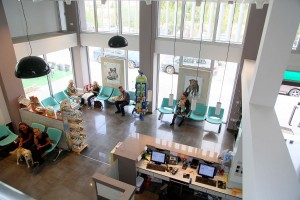 Right upon approach to the veterinary clinic in Limassol, even without knowing the inside structure, one immediately understands that it is a breakthrough in the veterinary medicine in Cyprus.
A two-storey building attracts attention from afar with large signs informing the public that all necessary services for the pets are available and more importantly, these services are available 24/7, in case if anything unpredictable happens to you pet.
The director of the hospital Dr. Маrinos Nikolau was expecting our visit. Despite his extremely busy schedule, he allocated some time to meet with us in one of the treatment rooms of the clinic. After he has finished the thorough examination of the animal he had in the treatment room and passing it over to his assistant, Dr. Marinos invited us to sit at his desk, which stands directly in the treatment room.
Veterinary clinic "Animal Health" is a modern clinical complex, which provides professional and comprehensive help to animals in Cyprus.
In the clinic there are several spacious offices, a modern operating theatre, quarantine room, showers for animals equipped with dryers, separate rooms are allocated for cats and dogs, which undergo treatment in this veterinary clinic. Everything was carefully planned here – both in respect of animal treatment аnd for comfortable work of personnel and convenience of the clients. There is a recreation room for the staff, kitchen, shower room and conference hall, where seminars and lectures for Cyprus' veterinary doctors are held.
The number of staff of the clinic is impressive- there are 12 employees in total, who are ready 24/7 to provide professional veterinary help in Limassol to either your own pet or any stray animal. Staff consists of doctors with a proven record of work experience, assistants, nurses and even a specialist on exotic animals. Yes, clinic offers medical services to exotic animals, and this is another unique feature of the clinic which make it stand out among the others!
Moreover, there is a pet shop in the clinic, where it is possible to purchase everything necessary for feeding, caring and treating the pets. The layout of the hospital was carefully designed up to the very last detail: each exam-room and working space is created with the aim to provide comfortable and calm working environment.
What makes this veterinarian clinic to be unique in Cyprus? – It is the feeling that people, who have created this place, are living the dream.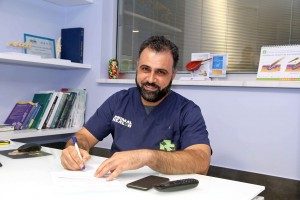 Dr. Marinos Nikolaou, the director of Animal Health Veterinary clinic shares with us a story from his childhood: "When I was just 16 years old, I had about 20 dogs at home. I was taking care of them every day. Sometimes they were ill and I was treating them myself. However, there were times when professional help was required. That is when I understood that my path in life and my future profession is to become such a professional. In my work, my creed is to save and preserve. Sometimes animals with very severe injuries are brought in the clinic, but I try to keep integrity of the body as much as possible, even when amputation may be required. Мy colleagues will do their best to preserve an injured paw, a sick tooth or another damaged organ, because integrity of the body is the key goal."
Dr. Marinos has studied in Slovakia for more than 7 years and his wife has gained her experience in Southern Africa. She works here as well, together with her husband. They have created a traditional family business – what can be better? Especially when both of them feel that they have vocation to be veterinary doctors.
The Dr. Marinos's wife welcomes us to a surgery room and allows us to take several pictures. She talks about her work in the unique clinic, but simultaneously she is making the last arrangements for the upcoming operation: "We really do not have much time for conversations. There is a large flow of animals into the clinic. People know us. My husband and I have been working for a long time and we have created this hospital based on our long-term experience. Look at all this modern equipment and new surgery room. It is marvelous. We always work a lot to have the time to help everyone. This is the best veterinary clinic of Cyprus. We are proud of it."
Right here, next to the surgery room, there are cages with animals who are recovering after surgeries. There is video surveillance everywhere and each cage is monitored 24/7.
The Animal Health veterinary clinic has the following facilities:
Surgery room, where up to 12 animals can be operated;
Spacious treatment rooms, which can host up to 60 animals;
Virus quarantine for animals;
Rooms for animal rehabilitation;
Orthopedic help to your pet in Cyprus;
Dentistry for animals;
Pet shop;
Spacious room for conferences.
These are just a few things making up this veterinary clinic, which is equipped  in accordance with all European standards.
The doors of the Animal Health Veterinary Hospital are open from 9 a.m tо 20 p.m every day, including Sunday.
24-hour consultation by phone 99 386 999.
Photo Gallery