History of DHI Global Medical Group
DHI Global Medical Group was established by Konstantine Giotis in 1970 in Palo Alto, California.  His vision was to change the world of hair restoration from the inside out, through research, education and innovative treatments.
During these 46 years, DHI Global Medical Group has been a leader in the evolution of the hair restoration industry by setting new standards and introducing innovative techniques and medical treatments.
The Medical Group has been dedicated solely to the educational research, diagnosis and treatment of hair and scalp disorders for 46 years, and has helped more than 200,000 delighted patients across 57 locations worldwide.
Hair transplant in Cyprus
The hair restoration industry has come a long way since the era of punch grafts and conventional surgery, where a strip of skin is removed from the back of the head in order to harvest hair follicles to transplant.
These procedures are now archaic and have been superseded by other new methods and hair loss treatments, such as:
Direct Hair Implantation
PRP Growth Factors
Scalp MicroPigmentation
Shampoos & Lotions
Hair Prosthetics
Eyebrow Restoration
Beard Restoration
Body Hair Restoration
Female Hair Loss Treatments
Direct Hair Implantation in Cyprus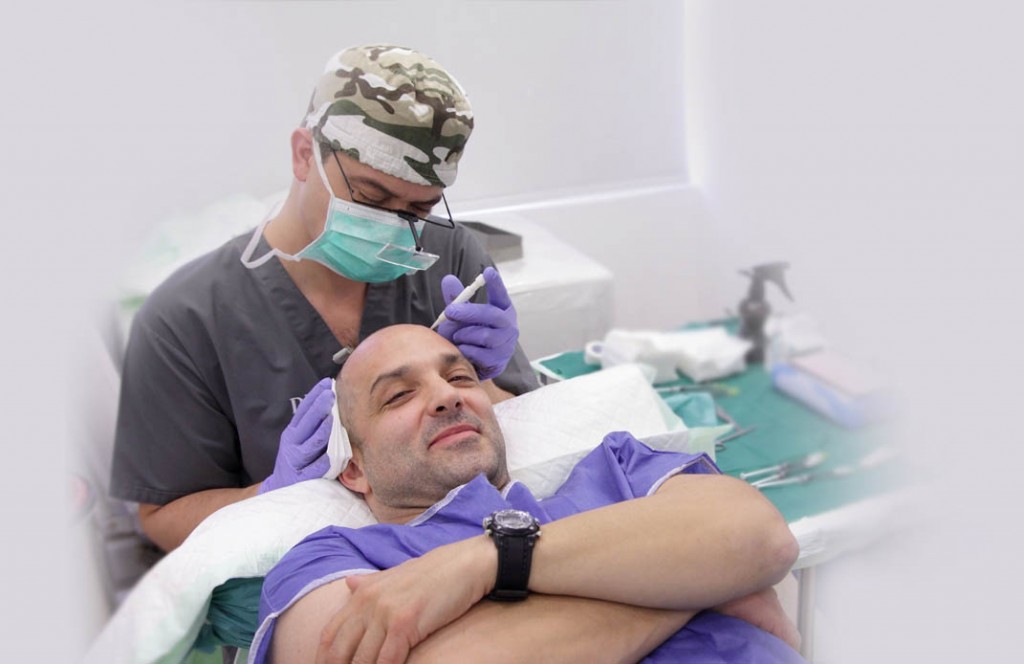 Direct Hair Implantation (DHI) – is a chance to get lifelong and absolutely natural results.
With DHI Direct Hair Implantation, hair follicles are implanted one by one directly onto the thinning area that needs to be covered. Each hair follicle is placed in a specific direction, angle and depth, thanks to the DHI patented tool, the DHI implanter, providing 100% natural results and maximum viability. The implanted hairs continue to grow throughout a person's lifetime and do not fall out.
The whole procedure is performed by physicians trained and certified by the DHI Hair Restoration Academy of London, the one and only Academy in the world in hair restoration, and under strict DHI quality standardisation protocols that were set up to ensure great results every time.
Relax and Enjoy your Treatment
DHI's VIP clinic stands for discretion, leisure and fun. Dedicated professional staff do everything to combine DHI quality results with a world class experience.
Treatment Cost
Hair loss treatment pricing starts from €200, and Direct Hair Implantation from €2,000 . The exact cost depends on the needs and expectations of the patient.
For your personalised quote, please, contact or visit the DHI clinic.
Hair Transplant Results
Since 1970, DHI Global Medical Group has helped more than 200,000 patients from all around the world. Below is a very small, yet representative, sample of hair transplant results and before after photos that will help you visualize the result in your case.
Contacts
Tel. +357 25763740
Address: 25 Agias Zonis street, 3027 ,Kotsios Court B, M. Geitonia, Limassol, Cyprus
Photo gallery