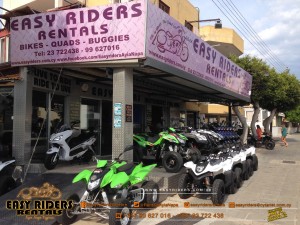 Easy Riders Rentals is a company engaged in the rental and sale of transport in Cyprus.  Here you will find motorcycles, scooters, motorbikes, quad bikes and buggies and other types of transport for hire or sale.
Established in Ayia Napa in 1994, the Easy Riders Rental Company has reached the highest level of customer service, and the company's name has become synonymous with professionalism and reliability.  For 22 years Easy Riders Rentals worked to become a leader in the market of motorcycle and vehicle sales and rentals in Cyprus.
The Company's employees are committed to their profession, and aim to provide the best service to their customers.  Now Easy Riders Rental Company is recommended by the largest travel magazines, web-sites and applications in Cyprus as the only reliable rental company for transport in Cyprus.
Bikes and buggies for rent in Ayia Napa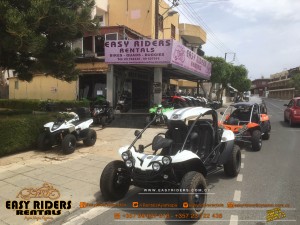 Easy Riders Rentals offer 300 brand new bikes to choose from, scooters, quad bikes and buggies for hire in Cyprus to meet any requirements.
Easy Riders Rentals has all brand rights for KYMCO, PGO, ACCESS  ADLY and therefore all the transport provided is imported directly by the company.  All motorcycles, quad bikes and buggies are tested, ready to use, and any technical problems are eliminated by the qualified personnel at the store, using all original parts.
In addition, the company also provides Collision Damage Waiver Insurance and 24-hour free road service throughout the Famagusta area, as well as free helmets and road maps.
Buggies for rent in Ayia Napa
Scooters for rent in Ayia Napa
Quad bikes in Ayia Napa
Extreme safaris in Cyprus
Easy Riders Rentals also organizes Extreme Safaris in Ayia Napa on quad bikes and buggies.  You can choose the place and time to travel by yourself, and the company will help you select the speed and calculate the time it will take to arrive.
Print the below image or save to your mobile device and bring to Easy Riders Rentals to receive one of the below special discount on Motorbikes, Scooters, Quad Bikes & Buggies.
Relax and have fun with all the benefits, with Easy Riders Rentals!