From the ancient times, flowers and plants were used as the main material for decorating homes.
Today, flower and plant decorations are still popular, since they help bringing people closer to the nature which is also expressed through the art of floristry and is actively introduced into interior design.
What is floristry?
Floristry is a field of design art, which uses fresh, dried or canned flowers and plants in combination with various natural materials for creating unique decorations.
This is how beautiful flower arrangements are created in the form of various artistic bouquets, ikebana and flower compositions for gifts, as well as stylish decor elements that can improve and complement any interior.
Types of floristry for different occasions
Florists create interior compositions and offer versatile design options by applying various techniques and trying out different decoration styles.
Use of bouquets, various compositions in vases and pots, wreaths, garlands, collages, panels and screens, allow decorating pretty much any space – be it a celebration of a special occasion like a wedding ceremony or an official event.
Wedding floristry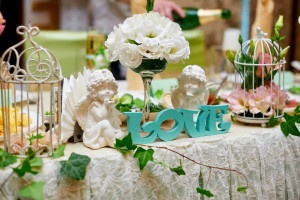 In addition to the usual floral attributes in the wedding images of bride and groom, such as bouquet and boutonniere, flower and plant compositions most of the times decorate the tables of newlyweds and guests.
Flowers are also used to decorate glasses, tissues, chandeliers, columns, ceiling and arches. All decorations are made in a single coordinated style to make sure each item harmoniously fits into the main theme of the wedding decor.
As decoration for the wedding interior, florists use:
small bouquets in vases or on stands to decorate tables;
flower garlands for stairs, ceiling, arches and chandeliers;
rose petals, laid out on the floor or wall in the form of a heart or initials of the newlyweds;
compositions of dried flowers, fresh and artificial flowers using various materials and accessories, such as fabric, lace, ribbons, etc.
New Year's floristry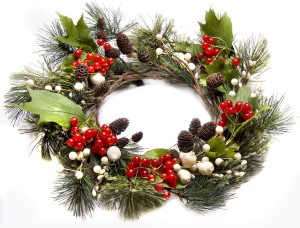 The main decoration of the interior for the New Year or Christmas, of course, is a Christmas tree, decorated with balls, beads, snowflakes, candles and spangles.
The following design elements, used also for fireplaces, doorways, doors, furniture and cutlery are common for the New Year's interior:
Christmas wreaths, decorated with ribbons, apples, berries, cones, candles;
compositions made of pine and juniper branches decorated with bells, stars and snowflakes;
ikebana;
arches;
garlands;
pyramids.
Easter floristry
It is possible to create a true works of art when preparing special Easter decorations, using simple everyday materials, as well as decor items and tools.
Since this is a spring holiday, the florists normally use spring flowers and the following traditional and creative elements for Easter compositions:
Easter wreaths made from spring flowers or willow branches;
bouquets and table compositions in the form of nests;
flower baskets;
Easter tree;
flower applications.
Funeral floristry
Despite the fact that mourning is a spiritual experience associated with pain and deep sorrow, it is a common practice to follow certain rituals, widely accepted customs and traditions when organizing a funeral ceremony. Flower decorations also play an important role in creating an appropriate atmosphere.
In funeral floristry the following elements are used:
funeral wreaths made from artificial flowers;
condolence baskets and bouquets of fresh flowers;
condolence compositions;
designer art works in the form of a cross or an angel.
Temple floristry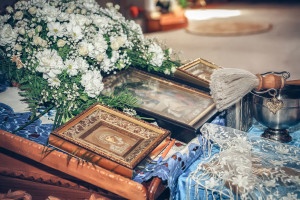 There is a number of rules for the flower arrangement for churches and temples. Iconostasis and icons are usually decorated with fresh and artificial flowers. On major religious holidays, churches and temples are decorated with flower garlands, bouquets and plants that correspond to the religious meaning of the holiday.
Piper sprigs and wreaths for Easter;
Bouquets of white lilies, as well as white roses and chrysanthemums for the celebration of The Assumption of Mary into Heaven;
spruce branches and wreaths for Christmas;
flower arrangements and garlands for other celebrations.
To create an interesting and unique flower or plant decoration, you do not necessarily have to turn to professionals for help. You can easily create a festive atmosphere in your home or workplace or decorate a space for the solemn event yourself. To do this, it is enough to have a strong desire and dedication, use your imagination, some flowers and decor materials.
Materials for floristry
To create flower decorations, apart from flowers, you can use pretty much any material. The main idea is that the material and flower combination is successful and perfectly fits in the interior.
Natural materials – twigs and branches, pine cones, nuts, chestnuts, leaves, berries, pebbles, seashells, dried flowers
Artificial materials – beads, paper, corrugated paper, foam plastic, thermoplastic, glass pebbles.
Tools – floristry foam, pins, tape, cello tape, wires, scissors, textiles.
Decorative elements and accessories – artificial flowers, insects, animals, birds, sweets, fruits, small stuffed toys, candles
Apart from the items mentioned above, wickerwork baskets, pots, glass and ceramic vases, fillers for vases and other materials can also be used to create a unique decor.
Unusual floristry elements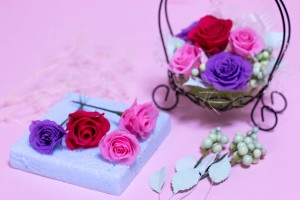 In order for flower and plant compositions to please their owners as long as possible, florists use special flowers and plants preserving techniques.
With the help of these technologies, it is possible to create non-fading compositions for home or office interior.
For example, it is possible to make preserved roses at home, by using a glycerine solution, hairspray or wax. Flowers conserved in this way can be placed and kept in a vase filled with sand, as well as in a jar or bottle filled with glycerine solution.