Kontor 202 is a floral, beauty and lifestyle concept store dedicated to your lifestyle at home, or for business, events, showrooms, displays, or a place where you can find the perfect gift for yourself.
About L'atelier Kontor 202
L'atelier Kontor 202 was brought to life by a dedicated team that loves to shop and experience all things beautiful and luxurious. At L'atelier Kontor 202 the staff will do everything to make you feel comfortable in your surroundings, and they love it when others do the same.
The team feels inspired by what the world has to offer, by products that bring a touch of luxury reflecting the beautiful side of life, and by products that make others feel good and give back to the environment.
You will not, therefore, find the shop amidst the hustle and bustle of town – instead they opened their showroom in the quiet and picturesque village of Parekklisia. Here people can simply pass by for a chat and a coffee in their olive garden whilst viewing their products.
The staff firmly believes in the power of online shopping, which is why all of their products are also available at the online shop and can also be bought directly through their respective Facebook page for ease of access. They will also be creating their own app to make the shopping experience even more exciting.
What brands do we currently carry?
Stop the water while using me!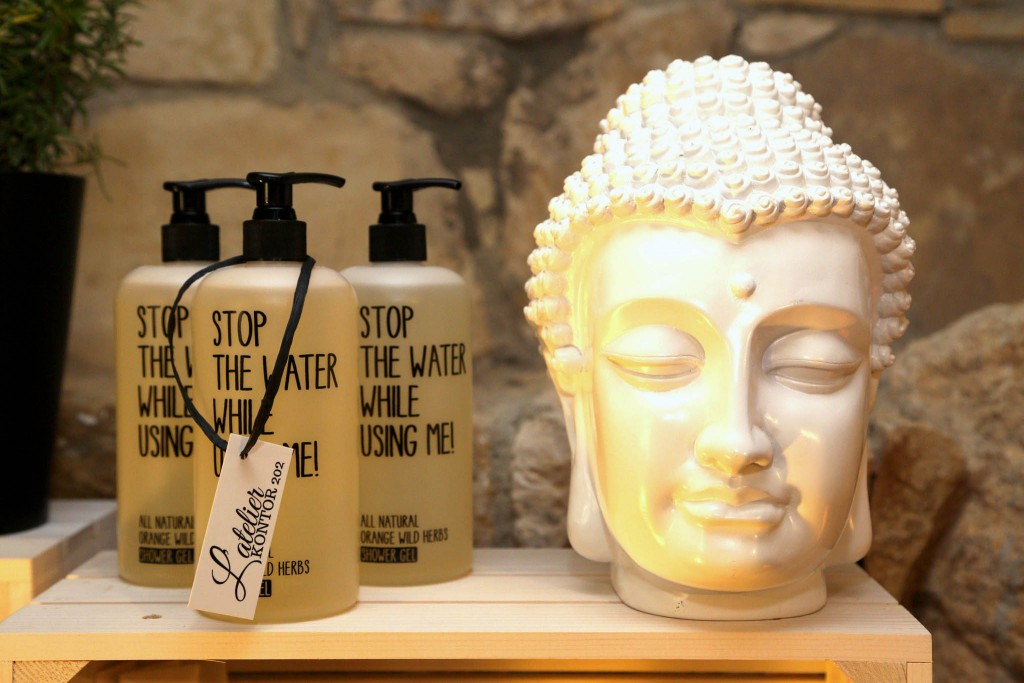 This is a beautiful, refreshing, all natural and organic body care brand from Germany that combines beauty with the notion of saving water.
The first question that always comes to mind is "does this mean no water is needed when applying STOP THE WATER WHILE USING ME"? No, this is not the case.
The aim is to make everyone who uses it conscious of their attitude towards water consumption, because water is a precious resource. The idea behind the brand is to simply turn the tap off whilst brushing your teeth, or soaping up for example, to eliminate water wastage.
At the same time, the brand also launched the GOOD WATER PROJECTS initiative to support innovative and intelligent projects in regions that suffer from water shortages. Contact the shop to find out more, or follow our social media feeds. With every purchase a portion of the proceeds goes into these projects.
Advantages of the Stop the water while using me! brand
Based on a refill-system, the packaging is also recyclabl;
The products contain no chemicals or artificial colourings, and only use natural, essential oils for fragrance;
They contain no silicon, paraffin or other petroleum-based raw materials;
The products are all fully biodegradable.
You will fall in love with this brand if you love the smell of fresh herbs and the scent of oranges, lemons, grapefruit and anything citrusy.
Interior products

This is the new way to give luxury.
Recently we come across preserved roses from Ecuador, and our initial thought was WE WANT THEM!
We love fresh-cuts, and adore picking them from the fields, but what if there aren't any around, and what if they are so expensive that it simply doesn't make sense to renew the bouquets on a weekly basis?
Say "Good-Bye" to wilting flowers and smelly water, and say "Hello" to our luxuriously simple floral arrangements made of preserved roses that will last several years if cared for properly.
L'atelier Kontor 202 ready-made flower arrangements:
in vases,

in glass,
in shiny cubes,
and also the famous Parisian-inspired hat boxes that have been showcased by many grand designers and displayed in the most beautiful settings and landscapes.
Display these at your next dinner party, or take them with you as a gift. We're sure everyone is going to be in awe of these.
Needless to say that we accept reservations so feel free to contact us any time.
"Simplicity is the key note of all true elegance…" as Coco Chanel once very accurately put it.
FUTURE BRANDS will be coming soon. Visit us to be one of the first to find out.
Do you have luxury materials at home for which you only want the best care? Follow L'atelier Kontor 202 to find out more.
Photo Gallery