Over the past 20 years the River Reggae Club has been, and remains, the largest and best outdoor after-party institution in Europe. Every year the River Reggae club amazes its guests during the festival of music and fun.
Nightclub in Ayia Napa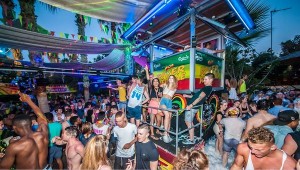 Opened in 1996, the River Reggae club in Ayia Napa is considered to be one of the most spectacular and entertaining after-party establishments in Cyprus.
Located in the centre of Ayia Napa, the River Reggae Club attracts thousands of nightclubbing fans.
The club opens at 1:30 am but, unlike most bars in the clubs in Ayia Napa, continues to run until sunrise. River Reggae Club is a place for those who want to keep on dancing, and for whom conventional parties aren't enough.
A club with a swimming pool in Cyprus
River Reggae Club is set out as a tropical island, where the exotic atmosphere is permeated with the feel of a summer vacation – fun on a Mediterranean island.
Who wants to swim? The River Reggae Club is pleased to provide its guests with the opportunity to do just that!
The most attractive and distinctive part of the club is the huge swimming pool in the shape of a river, which is never interrupted by the dancing and merriment.
The club has the largest open air bar in Cyprus, accommodating up to 2 thousand visitors.
The island is located in a small valley and regularly hosts hot summer foam parties.
Dance club in Cyprus
No party is complete without music. To get you in the dancing mood, River Reggae has a resident DJ, as well as special guests.
All summer long, seven days a week, visitors can relax and recharge their batteries to classic and latest dance hits.
After Party in Ayia Napa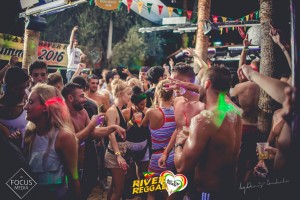 River Reggae Club is open daily from 1:30 am to 8:00 am. This place is designed for lovers of an active night club life, crazy holidays and dancing until sunrise.
You can pre-book tables at River Reggae Club which is ideal for large companies, and you can purchase T-shirts, bracelets, towels and other souvenirs.
Enjoy the arrival of a new day with the incredible experience of a tropical holiday at the club in Ayia Napa!
Free entrance for Cyprus Inform cardholders until 04:00 am.
 Photo Gallery