High-tech is a high technology cutting-edge style used in architecture and design, with the main characteristics being functional use of space, technical features and modesty in interior design.
This style can be described with the use of materials like metal, glass and plastic, straight lines and shapes, large number of lighting devices, silver-metallic colour and well-planned space arrangement.
Minimalism in everything
This is how you can briefly describe a relatively new style of high-tech. It has nothing in common with Japanese minimalism (interior with philosophical background) or Scandinavian minimalism (a cosy version of the interior). High-tech is a technological style, which is the basis for creation of unique and ultra modern residential spaces. Even with complete absence of any decor elements, they can be quite cosy and comfortable.
The lack of decor is compensated with light and colour. These two elements favourably emphasize the texture and shape of materials used in interior decoration, and when combined in a right way, can help creating a unique interior for a room, apartment or house.
Items and solutions to be used in high-tech design:
painted and often shiny wall surfaces;
self-levelling floors with 3D-effect;
suspended ceilings;
different kinds of lighting solutions;
high-tech materials;
metal structures and stairs;
furniture made of natural wood, plastic and other materials;
partitions and sliding metal doors with plastic or frosted glass inserts;
false partitions;
colour solutions – metallic, black, white, gray, shades of red, yellow, green and blue;
modern house equipment;
blinds, etc.
Big space, impressive size windows and high ceilings are also the key elements for creating a high-tech interior design.
Functional furniture
Functional furniture is another key element in high-tech design and functional space planning
High-tech style furniture is usually made from natural materials – more often the wood used in combination with the metal or inserts from glass and plastic. The surface can be matte or shiny, the upholstery is plain or made from fake leather, without any decor details.
| | |
| --- | --- |
| Type of premises | Furniture options |
| Hallway | Spacious built in closet with partially open shelves and mirrors; Multi-purpose small sizes furniture; Mobile furniture sets; Cabinet or built in furniture. |
| Kitchen | Modern suite with convenient and comfortable storage system; Dining table and chairs; Folding table; Bar counter or kitchen island; ultra modern and technologically advanced hardware (elevator mechanisms); Built-in racks, shelves and cabinets. |
| Living room | Comfortable plastic and glass partitions if combined with the open concept kitchen; Modern equipment; Transformable tables, sofas and armchairs; Flat screen TV with a large screen; Glass cabinet for TV; Built in closet; Shelves. |
| Bedroom | Built in closet; Bedside tables or a multi-purpose coffee table; Built in furniture; Cantilever or hidden shelves; Bed of a simple geometric shape and modern design; podium. |
| Bathroom | Hidden bathroom racks and shelves; Unusual shape washbasin; Cabinet for bathroom accessories with a glossy surface; Ultramodern shower cabin / bath-tub; Large rectangular mirror. |
High-Tech lighting
Lighting arrangement in a high-tech interior is definitely far from being minimalistic. Various kinds of light sources and solutions play an important role in high-tech interior decoration.
In addition, the light is a great tool for organizing the space, dividing the room into functional areas and adding the atmosphere of lightness and aesthetic beauty to furniture, modern finishing materials and living space in general.
For hi-tech lighting, the following simple and complex light structures are being used:
lamps and lighting fixtures;
built-in lamps;
energy-saving lamps;
LED lights;
halogen lamps;
lamps on brackets;
devices for adjusting the light direction;
headlights;
spotlights.
Chandeliers and traditional floor lamps are not suitable for high-tech style and are rarely used.
As to the natural lighting, large windows are highly appreciated, preferably without curtains. They can be replaced with modern options in the form of roller blinds, shades or vertical blinds.
Accessories and decor elements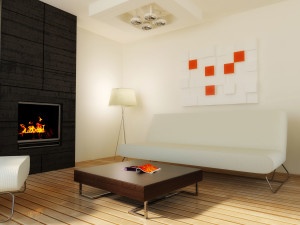 Accessories and decor elements used in other architectural styles to highlight the interior by adding bright colours and making space more comfortable are not much used in high-tech design.
Cosy and comfortable environment in the living room, kitchen, bedroom and bathroom, which would be in line with the high-tech concept, can be created with the following decor elements and accessories:
large mirrors without frames;
black-and-white photographs in conservative frames;
graphic and abstract paintings;
chrome and shiny dishes;
blinds and curtains without a pattern and decor;
simple wall clock;
plain textiles.
Even with a large number of shelves allowed in the high-tech interior design, they are not being filled with small items like statuettes, figurines, boxes and vases. Their presence will visually disrupt the aesthetic composition of the room and well-established order of things, which is typical for the high-tech style.