This is a specialised company for the transportation and forwarding of goods, offering door-to-door delivery services around Cyprus and worldwide.
The company's service includes:
Distribution;
Domestic moving (including the use of telescopic lift);
Packing personal and household items for export;
Container transportation of vehicles;
Transport services around the world.
Transportation services in Cyprus
M.K. Worldwide Movers offer first-class services for moving in Cyprus. With many years experience in packing items for international transportation, the company guarantees the reliability of transportation and the safety of your things.
Thanks to its fleet of lifts and a telescopic elevator lift, the company can deliver furniture to customers up to the height of the 10th floor.
Transportation of furniture and storage is available in all major cities, and other regions of Cyprus.
Export transportation
M.K. Worldwide Movers offers complete export packaging and container transportation of personal items, household items and vehicles.
For the convenience of customers, the company provide the possibility of partial and full container loading. This flexible policy allows the company to provide its customers with any transportation service.
For those who want to save money on packaging, M.K. Worldwide Movers also provide packing material.
The company's goal is to provide prompt, uninterrupted movement of items and vehicles.
Delivery of international cargo and parcels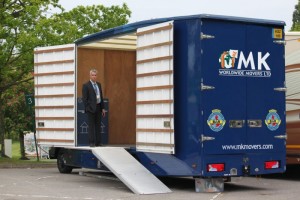 M.K. Worldwide Movers provide fast and high-quality cargo acceptance services, including customs clearance, delivery, unloading, installation, unpacking and collection of packing material throughout the island.
The company provides relocation services to customers who wish to settle on the island and offers free disposal of domestic debris when moving, using a part or fully loaded container.
Storage in Cyprus
The company guarantees the reliability of short-term and long-term storage of goods with its modern and fully equipped warehouse, using palettes and technological methods and materials it's an ideal place to store items safely in Cyprus.
The advantages of M.K. Worldwide Movers
M.K. Worldwide Movers, along with other independent international companies, carries out international transportation by generally accepted world standards for the movement of goods.
Modern operating systems, high professionalism of the company's employees, as well as the use of proven techniques and innovative technologies allow M.K. Worldwide Movers to track the movement of each cargo.
Customers are provided with a reliable service, from the initial request to the delivery of items.
Caring about the needs of customers
Continuous practice in the field of transportation and storage of goods guarantees a polite and professional service, as well as the timely informing of customers about all important events.
The M.K. Worldwide Movers network is represented by the best international moving companies. Being one of the best shipping companies in Cyprus, M.K. Worldwide Movers carefully monitors its partners to ensure that quality and standards of service meet the high requirements. Most of the partners are members of international associations.
M.K. Worldwide Movers pays maximum attention to the individual requirements of customers regardless of the type of service – export, transportation or storage in Cyprus or other countries.
Customer's requirements are always subject to agreement and immediate implementation. M.K. Worldwide Movers is proud of its reputation and is renowned as a quality, economical and flexible company in Cyprus.
Contacts and orders
Advance information is provided free of charge. The company's friendly inspectors-consultants will find the solution to any inquiry.
Any enqueries, please telephone: +357 7777 8377/+357 25660667, fax +357 25660668 or e-mail at [email protected]
Photo Gallery