ASTRA Car Rental's story began in Nicosia in 1946.
Founder and pioneer, Dinos Kontos, understood the potential of the car rental industry, and made it his mission to provide an affordable, reliable and high value experience for corporate and leisure clients. In ten years he became the leader in this industry.
By the late 90's ASTRA (A Service To Remember Always), had amassed a fleet of over 1250 vehicles, one of the largest on the small island of Cyprus.
Over the years, the company evolved and had an extended network in Cyprus offering rentals, leasing, fleet management, sales and transportation services.
ASTRA Car Rental Services:
Car rental;
Leasing of cars;
Transport services.
ASTRA customers are large tourist organisations, financial institutions, the army, government, distributors, pharmacists and numerous corporations in a variety of industries.
Advantages of renting a car in ASTRA Car Rental
Flexibility
The presence of a large fleet of vehicles of different models and an extensive network of branches throughout the island allows for the provision of a 24-hour car rental service in Cyprus and technical support seven days a week.
24-hour support telephone: 77 77 78 00.
Efficiency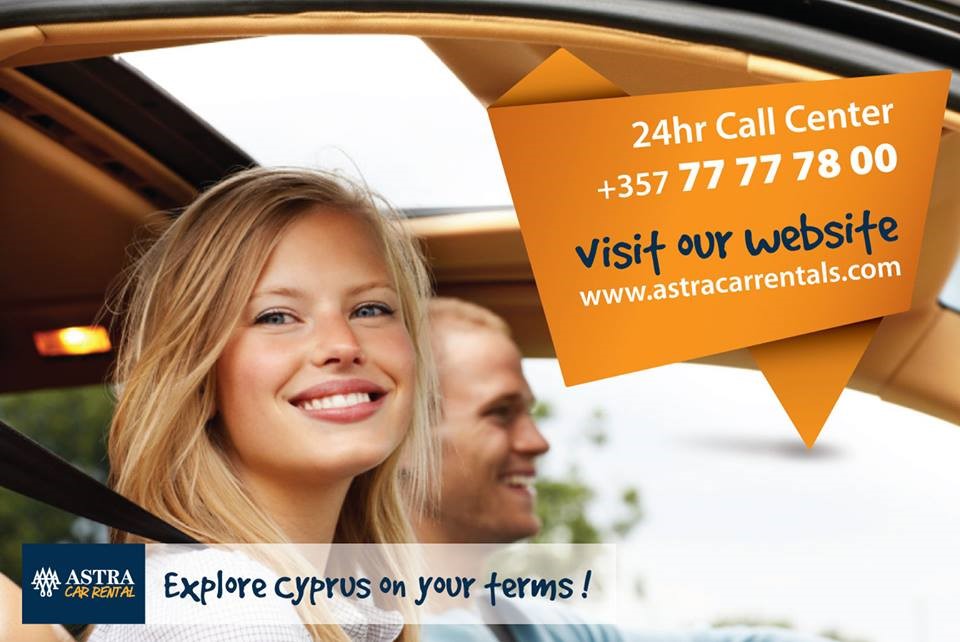 The company's branches are located in:
Nicosia;
Larnaca;
Limassol;
Ayia Napa;
Paphos;
Hilton Hotel Cyprus (Nicosia);
Larnaca airport;
Paphos airport.
Over 60 years of working with local and international customers in the car rental sector in Cyprus and modern fleet management software allows the customers to easily and efficiently order the necessary vehicles.
Transparency
ASTRA Car Rental guarantees no hidden costs when entering into a car rental agreement. Upon delivery of the car, all rental conditions are clearly presented in the contract and can be explained in detail by the company's multilingual staff.
Reliability
All cars of the company meet high standards of safety and quality and are regularly updated. In the event of an accident or breakdown on the road, the technical service will arrive anywhere on the island within an hour.
Optional equipment
ASTRA Car Rental provides free maps of Cyprus and a travel magazine.
Additional services:
Child seats;
Additional insurance;
Navigation systems;
Car roof storage.
Honesty and professionalism
Being a family company, ASTRA Car Rental conducts its business according to the highest professional standards, with corporate responsibility and honesty, focusing on providing reliable and economically viable services to its customers.