Maro Constantinou's pharmacy started to work in May 1985 in Erimi next to Bank of Cyprus.
The pharmacy's employees
Maro Constantinou's consultants work under the supervision of professional chemists.
The speciality of the employees allows them to give advice to customers on general issues of health and beauty.
The well-trained and friendly staff speaks Russian, Greek and English.
The Maro Constantinou pharmacy provides free advice on product selection corresponding to customers' needs, as well as measuring blood pressure.
Pharmaceutical advice:
A personal approach to each client, aimed at protecting the health and well-being of the customer;
explanation of ingredients and information on the schedule of medication, possible interactions with other medicines, as well as any side effects;
recommendations on the prevention and treatment of diseases, the use of non-prescription medicine and dietary supplements such as vitamins, natural products, and so on;
provision of expert advice in the selection of medications and the relevant Russian counterparts;
Pharmacist, Maro Constantinou, is available for diagnosis and consultation to determine the pathological changes caused by dermatological diseases;
recommendation of specialists in various fields of medicine (if necessary);
Additional or alternative methods of treatment using food additives, vitamins, natural products, and so on.
Medicines in Cyprus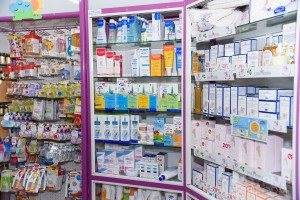 Maro Constantinou's pharmacy, in addition to medications, has branded cosmetic and personal hygiene products.
To get the best products for body and skin care, customers can have a skin diagnosis and free facial care treatment.
Available at the Pharmacy:
A wide range of various medicines;
personal hygiene items;
skin care products;
vitamins;
nutritional supplements;
pharmaceutical and homoeopathic medicinal cosmetics;
products for childcare (MAM, Mustella, Linea Bibby, Frezyderm);
branded cosmetics;
products for hair care;
eye shadow, mascara, lip gloss;
perfumery.
Cosmetic products:
Apivita;
Carita;
Darphin;
Avene;
La Roche-Poasy;
Korres;
Vichy;
Binella;
Collistar;
Nuxe;
Ahava;
Uriage.

Benefits of Maro Constantinou Pharmacy:
friendly and helpful staff;
advice on improving and maintaining good health;
medical consultations;
tips on a healthy lifestyle;
availability of essential medicine;
interest in studying the history of the patient to provide competent advice on the selection of medicinal products;
free diagnostics and treatments for skin care.
Photo Gallery