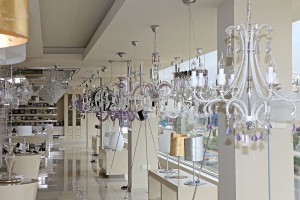 Light fittings shop, Special Lights, оpened its doors in Larnaca to customers in 1985. In 1990, enterprise CH. P. SPECIAL LIGHTS CO. LTD was established.
At present Special Lights is one of the largest light fittings shops in Cyprus. When you visit the shop, you will appreciate the vast choice of light fittings and chandeliers to suit any taste.
Products at the shop are of high quality and are supplied from the best and most famous European factories.
Lighting fittings and components for home and office
Experienced shop assistants-consultants will help each customer make the right choice and will advise on what would be suitable for their needs.
If you need to buy light fittings in Larnaca and also save time and money, you should drop in to the Special Lights store, where you can choose any lighting fitting and components for home and office.
The Special Lights store displays thousands of various items. Here clients can buy exactly what they have been looking for – wall, ceiling and children's light fittings, light fittings for the bathroom and the kitchen, single fittings and many others.
If you want to choose a particular light fitting (square or round), modern or classic style, you can buy them here.
When coming to Special Lights, clients can choose lighting fittings for their individual needs:
hanging and ceiling chandeliers;
standard, table and wall bracket lamps;
wall, children's, individual, ceiling and lamps for the kitchen and bathroom;
street lamps, utensils for technical lighting, LED-based lamps.
10% discount for Cyprus Inform cardholders
Photo Gallery