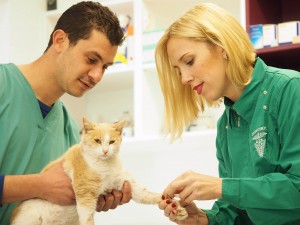 The Zookosmos clinic is located in the village of Aradippou, 5 minutes away from Larnaca by car. Doctors Pavlos and Natalia Kyprianou founded the clinic in 2006.
Natalia received her veterinary education in Russia, and for many years has been living and working in Cyprus. She has dedicated herself to helping her patients – from the simplest cases to the most severe. Using her experience and modern equipment and techniques, she manages to help many animals every day.
Veterinary service in Cyprus
The clinic provides a full range of veterinary services.
Standard and specialized diagnostic tests: Ultrasonography (ultrasound), X-rays, blood tests, and more. Since most of the research is carried out directly at the clinic, the results can be obtained very quickly.
Surgeries of any complexity are performed at the clinic and, if required, the rehabilitation of the patients can be carried out in the hospital.
Artificial insemination services are offered to professional breeders, including control over the female menstrual cycle and determining the best days to conceive puppies.
The veterinary clinic offers the following services:
diagnostics (including ultrasound and X-ray);
analyses;
surgery;
24 hour post-operative rehabilitation;
artificial insemination of dogs for professional dog breeders;
grooming;
a wide range of products for animals.
Grooming services in Cyprus
The clinic offers grooming services with the hygienic care of animals, including the cleaning of the ears, teeth, hair and nail cutting.
Clipping is mandatory for some breeds of dogs, for example, poodles, spaniels, terriers and schnauzers. However, during the hot Cyprus summer a hair cut can make life easier for any dog. Owners of long-haired dogs can consult the veterinarian about clipping and looking after their pets.
Pet hotel in Cyprus
Often many owners face a problem about where to leave their pet when going on vacation.
The Zookosmos Clinic has its own pet hotel, where caring and friendly staff will make sure your pet is comfortable during his/her stay.
Pet food in Larnaca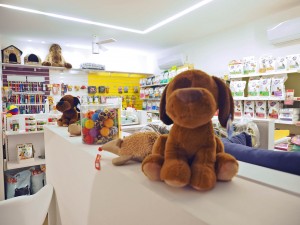 The clinic has its own animal pharmacy with a section of goods for animals.
In the pet shop you will find a wide range of pet food for dogs and cats.  You will also find toys, vitamins, treats, leashes, collars, stylish clothes for small dog breeds and professional animal shampoos – anything you need for your pet.
It's often more difficult to provide medical help for your pet than it is a family member as your pet is unable to tell you what's wrong with them, so it's important that they are treated by a person who will correctly diagnose and treat the problem.
The vets at Zookosmos will take care of you.
Discount for Cyprus Inform cardholders – from 5 to 20 %
Photo Gallery