The Land of Dreams
It's not easy to fish for sturgeon and trout in Russia these days, but thanks to the efforts of enthusiast Andreas Christofi, it's possible in Cyprus.
A 25 minute, unhurried drive from Limassol to the Troodos Mountains will lead you to the village of Trimiklini, where The Land of Dreams is located; a dream of any fisherman or traveler looking for a different kind of holiday.
Salmon Trout and Russian Sturgeon in Cyprus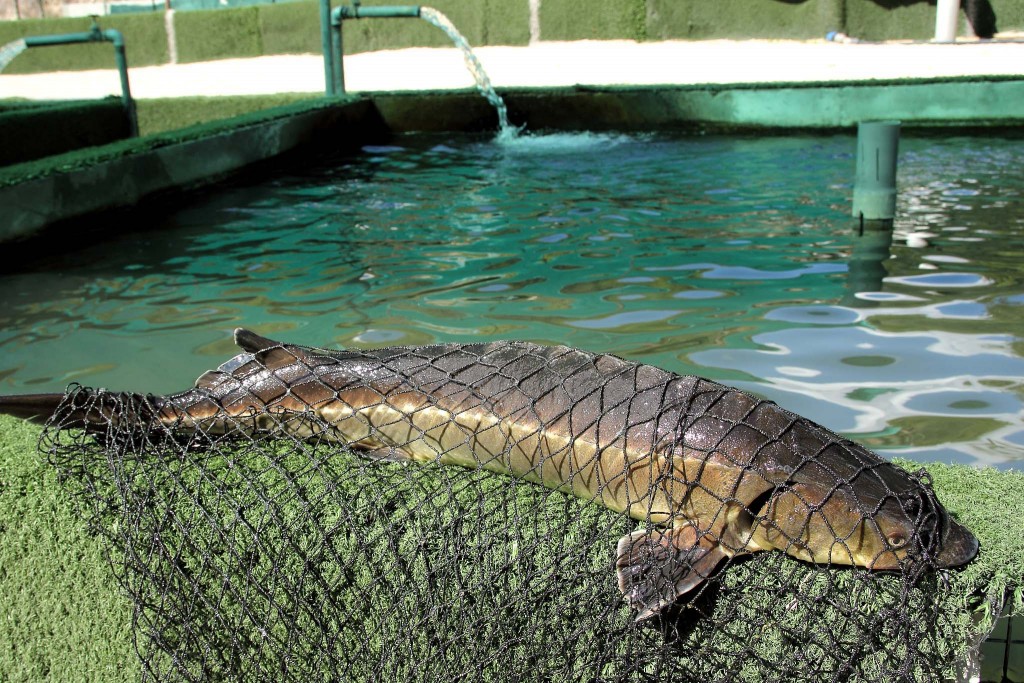 Andreas' farmstead is located in the mountains on the river Kouris.
Hundreds of tonnes of water – both river and well water – run daily through a cascade of manmade pools and a lake. In one of the pools large female sturgeon move sedately, these will produce the "black gold" in a few years time – sturgeon caviar. The other pool contains "small fry" оf trout waiting to be released into the manmade lake.
A constant flow of water and high-quality feed ensure high quality fish – two species of sturgeon – Russian and Siberian – and one of the best trout, the salmon trout, with the flesh a delicate pink colour.
Cypriot fishing
This is a surprisingly cosy place: in the depths of a mountainous gorge there lies a small lake, around which places for fishermen are carefully arranged – there is a place to fix the rod with an armchair next to it.
But you won't be able to sit still! Аndreas offers you fishing where the fish always bite! You only have to cast a line and in a few minutes the cork float is jumping. The rod bends, the fishing line stretches out like a chord and you can feel the weight of the fish on the line.
Is it a carp, which we will probably release, or a silver trout? Or maybe the noble sturgeon?!
The hours spent on the lake pass quickly and it's only hunger which brings you back to the real world. Appetite becomes serious in the fresh mountainous air. Also the smells from a brazier nearby are incredible.
A lunch in the mountains
I hope you booked a table beforehand. Believe me it's worth it. Аndreas will cook your catch, or, if you didn't catch the king of fish that day, he will offer a cooked fish of your choice out of a large pool.
You can ask him to grill or bake the fish, but I would get him to smoke it for you as Аndreas smokes fish perfectly.  A hot smoked salmon a la tzar – fresh, warm, dripping fat – is a culinary piece of art.
Salmon a la tzar is an ancient Russian tradition of cooking sturgeon. A fish weighing anything from 1.5 tо 5 kilos is cooked in one piece. On top of the fact that the sturgeon is wonderfully juicy and tender, the dish graces the table without doubt!
The process of smoking takes an hour. If you have asked to cook the fish you caught, you can walk along the banks of a mountain spring whilst waiting for the meal, or partake of light snacks and aperitifs.
By the way, Аndreas makes good homemade white wine – you must try it. For those who prefer meat, a shashlik is available – made of young lamb grown on a mountain farm owned by Andreas' sister. At the end of the meal the hospitable host will offer you fruit from his own garden.
Аndreas Christofi
Who is this mysterious enthusiast – the host of this unusual farm? Аndreas speaks perfect Russian – years of life in Russia, where he studied at the Тimiryazev academy.
The Land of Dreams is his lifetime project, set on family land.  A warm stylish wooden house, which will shelter you from bad weather in the autumn and summer, will be open very soon near the lake.
Аndreas greets guests personally and controls the work of his assistants. There is a feeling that you are visiting а large, friendly family.
Terms and prices
Each fisherman pays 25 Euros for a whole day's fishing. You can come with your own fishing gear and bait; оr rent a rod for an additional 10 Euros.
The caught fish is paid for separately – 12 Euros per kilo of trout and 25 Euros per kilo of sturgeon. Smoking will cost you an additional 13 Euros per kilo of any fish.
Тhis means that a wonderful fresh hot smoked sturgeon will cost you 38 Euros per kilo – is that not a feast?!
A moveable feast…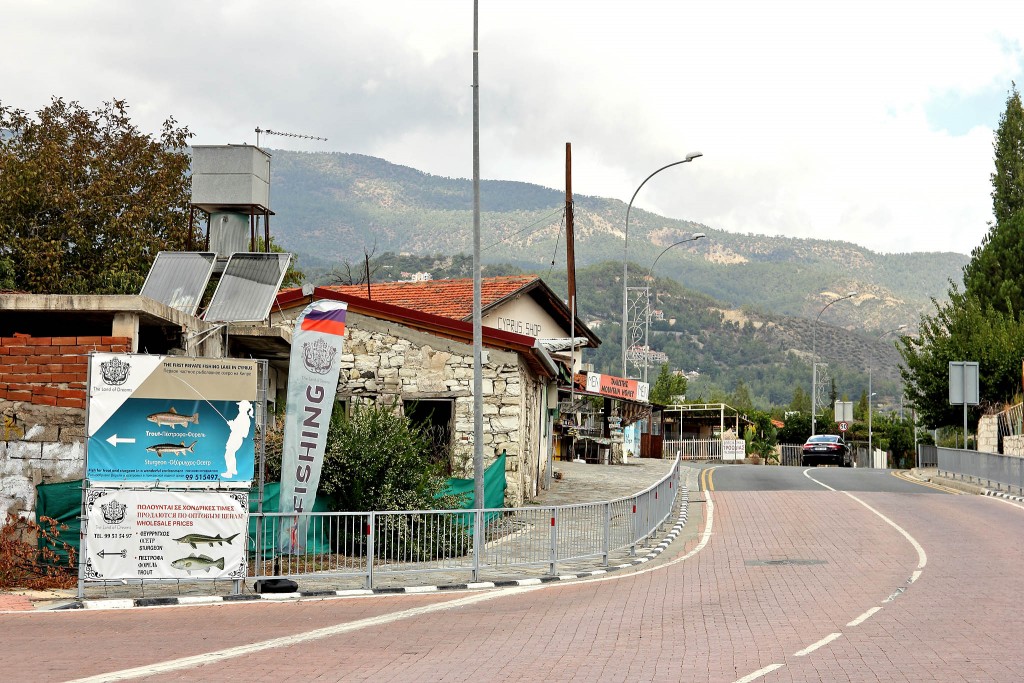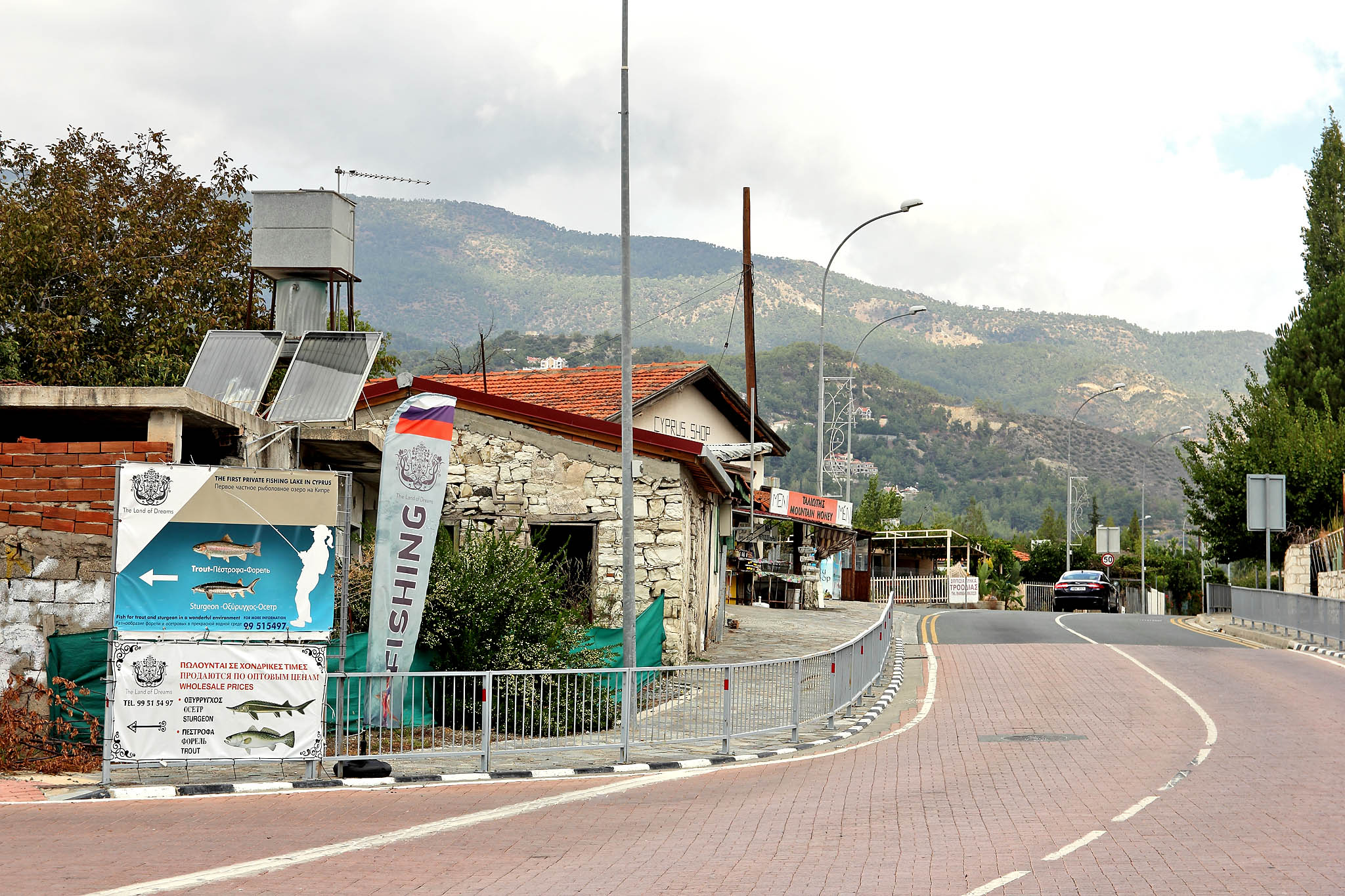 If you are no fishing fan, you can just come for a picnic in the open air, where you can enjoy the successes of the fishermen, and savour a smoked sturgeon and homemade wine, or a fresh lamb shashlik.
It is better to book a table on a weekend. On weekdays, you have to inform Andreas of your visit beforehand.
You can have lunch and dinner at Andreas'. In the evening, the mountain gorge is highlighted, and becomes especially romantic.
Come to Andreas' with the children! Fishing competitions can be organized, with prizes for those who catch the most fish or the largest. The Land of Dreams is the perfect place for a family feast or a unique corporate party.
Photo Gallery