The Vasilis Nikolaou Pharmacy is located in Agios Athanasios, Limassol, close to the Linopetra roundabout. The modern, bright pharmacy is comfortably laid out, enabling customers to make purchases in a relaxed environment.
Pharmacist and owner, Vasilis Nikolaou, and his assistants are always available to offer professional medical advice and answer any questions you may have.
Modern Chemists in Limassol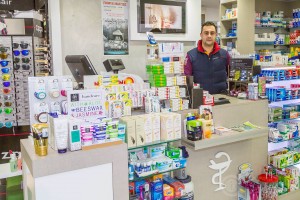 The staff at the Vasilis Nikolaou Pharmacy care about their customers and offer a free consultation and related services:
explaining directions for the use of the medicines;
explaining consequences of possible interactions with other drugs;
going through the rules for admission of homoeopathic remedies;
taking blood pressure;
measuring blood sugar levels;
measurement of cholesterol and triglycerides.
Medicines in Cyprus
The Vasilis Nikolaou pharmacy offers a broad range of medical and hygiene products, such as:
medicines;
nutritional supplements;
vitamins;
homoeopathic remedies;
medical equipment for the home;
child care products;
oral care products;
hair care products;
personal hygiene.
Cosmetics and skin care products in Limassol
Vasilis Nikolaou Pharmacy offers a broad range of branded cosmetics.
Professional cosmetologists are available in the pharmacy during the week, demonstrating popular cosmetic products and offering customers free consultations, and beauty treatments for face and body, including free professional makeup. For more information tel: 728 798 25.
Cosmetic line at the pharmacy Vasilis Nikolaou:
Ahava;
Collistar;
Korff;
Apivita;
Korres;
Avene;
Vichy;
La Roche-Posay;
Seventeen;
Pupa;
Darphin Paris.
Photo Gallery