Since its founding back in 1996, BrandTech has been offering high quality car services, always using the very latest and finest technology available.
Managing Director and licenced technician, Mr. Christoforos Dieronitis, undergoes constant and extensive training regarding his work, and he is also a member of SEMO (Association of Importers of Motor Vehicles).
Mercedes service in Cyprus
Mr. Christoforos has received many years of specialist training direct from MERCEDES, and currently holds a series of MERCEDES Training Licences which qualifies him to perform work on all their vehicles. For more detailed information visit the company's web-site.
Diagnosis of Mercedes in Limassol
BrandTech completes a full examination of your car each time you take it in for a service, including:
Lights;
Wipers;
Tyres;
Brakes;
Suspension;
Steering wheel;
Linkages;
Engine;
Gearbox;
Exhaust pipes etc.
Advice is then given to the customer accordingly, as safety is the company's top priority. Complete digital work records are kept so that everyone has a detailed history of the car's maintenance and condition.
Car Repair in Cyprus
Oil Service in Limassol
High quality lubricants from AC Delco are used throughout. The company will make sure that your car passes all their strict control check lists. You will be informed of anything out of the ordinary and be made aware of the exact condition of the car.
Car Batteries
For an extended, long-lasting and reliable battery performance, we recommend high quality batteries from AC Delco. These batteries come with a full 2 year warranty for your piece of mind.
M.O.T. in Limassol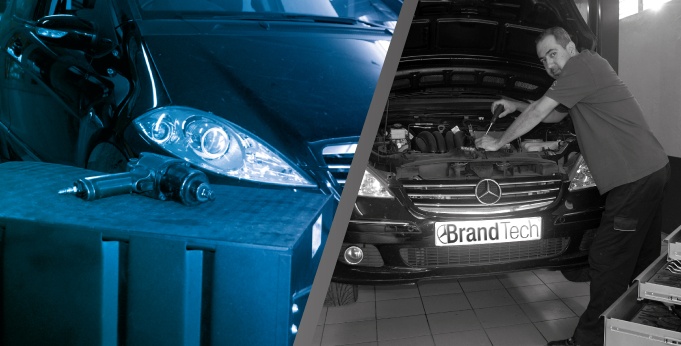 Only trusted, specialized M.O.T. centres are used for ultimate quality assurance, and the car can be delivered to a convenient location afterwards.
Car Diagnostics
A full diagnosis of any given car is carried out with accuracy and professionalism, and the customer will receive a detailed and precise report of the car's condition, together with information as to any necessary work that needs to be done.
Air conditioning
The company is able to carry out a full diagnosis of your car's air conditioning system, including the fan operation, the condition of air ducts and filters, electrical / electronic operation, as well as refrigerant gas pressure. They'll make sure that your car's entire air conditioning system is in tip-top condition.
ECU coding
All types of electronic control units for the engine, gearbox etc. are programmed and encoded with precision in accordance with factory guidelines and data.
Tyres & Steering Alignment
There are a variety of tyres to choose from and, based on your selection, the company will make sure that your car performs exactly as its manufacturer intended.