Aesthetic cosmetology in Cyprus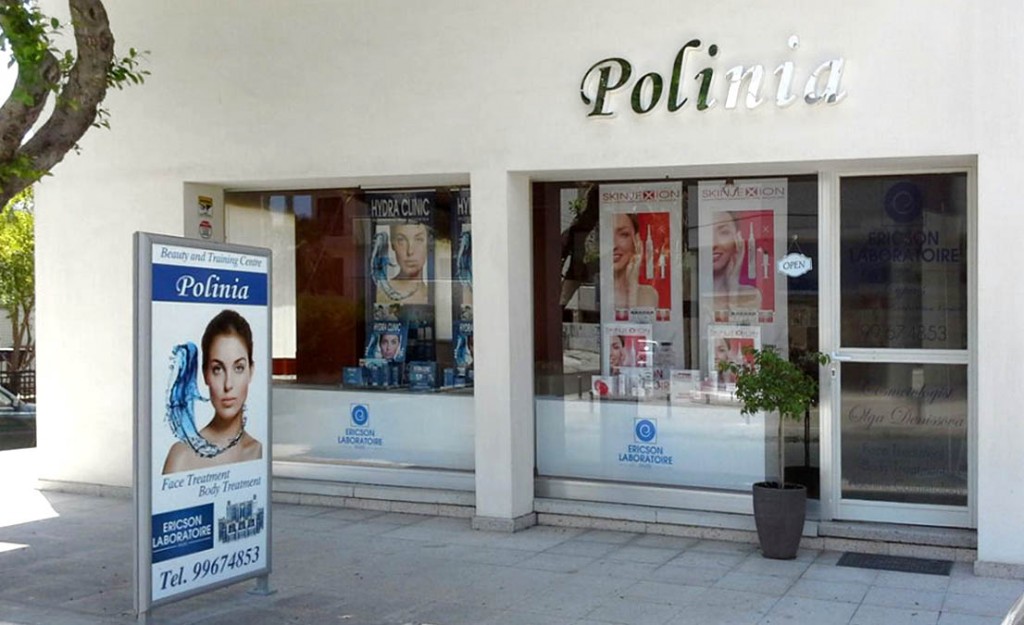 Ericson Laboratoire is the world's largest manufacturer of professional cosmetics with a cutting-edge scientific approach for face and body care. The company was founded in 1962 in France, by Professor Ericson, a scientist and biologist.
Ericson Laboratoire has 8 research and production laboratories in France, and more than 70 offices in countries around the world, including Cyprus.
The Cyprus representative office of the company is located in Limassol, and the beauty training centre, Polinia, is designed for both professional and trainee beauticians, and a private client service.
Here you can get detailed, free, advice from leading cosmetologist Olga Denisova which takes into account lifestyle, health and skin type. An individual beauty programme will be developed exclusively for you!
Ericson Laboratoire Professional cosmetics
The company has 14 face care and 9 body care product lines, and there are more than 200 cosmetic products for home care. This allows the beautician to choose the most appropriate product for you, and obtain the desired result in the salon.
Cosmetics and comprehensive care of Ericson Laboratoire
| | | |
| --- | --- | --- |
| | SKINJEXION | Botox CHALLENGE. Smoothing wrinkles quickly, efficiently, safely. |
| | GENXSKIN | Skin Rejuvenation for 14 days. Working with the skin at the cellular level. |
| | SUPREME DHE. Age | Highly effective treatment for in pre- and post menopausal women. |
| | FRESH CAVIAR | Exclusive care of Ericson Laboratoire, based on fresh caviar. Express recovery for tired and atonic skin. |
| | ENERGY LIFT | Alternative plastic surgery! Oval face and double chin correction. Double-action procedure: the fight against wrinkles, lifting. |
| | MESO-VIT | No injection mesotherapy. The vitamin "bomb" for your skin. |
| | HYDRA CLINIC | Deep moisturizing use of methods awarded the Nobel Prize. |
| | FEMINITY | Care designed specifically for women based on phytoestrogens. Normalization of hormonal skin. |
| | BIOPTIC | Comprehensive solution of problems of the skin around the eyes. |
| | ENZYMACID | New peeling generation: enzymes, acid polishing, complete skin rejuvenation programme. |
| | PERFECTION | Regulation of pigmentation at the molecular genetic level. |
| | BIOPURE | Deep cleansing + biological oxygen therapy. |
| | ACTI BIOTIC | Oily skin care. Treatment of acne and seborrhea. |
| | DERMA SUN | Strong thermosetting protection. Beautiful and safe tan. New generation of Sun Protection line. |
Programmes of Ericson Laboratoire have been developed to solve a variety of issues, ranging from the treatment of problem skin and ending with rejuvenation.
Ericson Laboratoire cosmetics, and numerous innovations in the field of medical cosmetology, can help you without the need of surgery:
To cope with any cosmetology skin problems.
To achieve sustainable results without the risk of health complications.
Get professional assistance and advice from experienced professionals at the company's representative office in Cyprus.
The main advantages of Ericson cosmetics:
cosmetic world-class brand;
a wide range of professional cosmetics for face and body;
high efficiency, the effect on a cellular level;
independent international expertise;
safety certificate;
alternative beauty injections and plastic surgery;
the quality of each cosmetic product tested during the 2 years prior to the date of the sale;
hypoallergenic cosmetic products;
technology, awarded the Nobel Prize;
the latest developments in the world of medical cosmetology, innovative beauty products;
secure and lasting results.
Cosmetology services in Cyprus
no injection mesotherapy;
no injection wrinkle reduction;
acid peeling;
protection and treatment of pigmentation;
treatment of acne;
effective care for the skin around the eyes;
correction of facial contours, break down of subcutaneous fat;
training centre for beauticians, training opportunities both in Cyprus and in France with the best French technology.
Among other things, the company's representative experts of Ericson Laboratoire in Cyprus offer you a variety of unique anti-aging programmes for face and body care, using nutritional supplements, diets and various complex products, which will not only assist you in staying youthful, but help you maintain a slim figure.
All cosmetic products of the Ericson Laboratoire  firm are 2-year tested in independent laboratories, and are based on high-quality ingredients, highly refined and using advanced and reliable production methods that meet international standards.
Only active components of marine and plant origin go into the composition of the cosmetic products, which have natural, hypoallergenic properties.
Individual beautician consultations
In order to choose the right cosmetic procedure for the customers, qualified beauticians and craftsmen in specialized beauty salons and spas in Cyprus are trained and practice with Ericson Laboratoire products.
The qualified beauticians and experienced professionals of cosmetic face and body care in Cyprus will help you restore the tone and elasticity of your skin, restoring its vitality and energy.
Ask your beautician or contact the representative office of Ericson Laboratoire in Cyprus at:Vassili Michaelide, 25 and by phone: 996 74 853!
Photo Gallery