The Centre was established in 2005 in Limassol and provides high quality medical services and surgical procedures to the patients, suffering from any type of ankle and foot problems.
Healthy feet Centre is known for its expertise in treatment of patients with any foot and ankle joint diseases – ranging from simple dermatological issues, such as nail surgery or diabetic ulcers, to complex biomechanical problems of feet and ankles.
The Healthy Feet Centre offers a comprehensive and full set of podiatric care, treatment and procedures for feet and lower limbs:
General foot care;
Assessment of footwear;
Orthopaedic recommendations and prescriptions;
Advice on discrepancy of leg length;
Treatment of cavoid and flat feet;
Plantar Fasciitis condition;
Achilles Tendonitis;
Morton's Neuroma;
Treatment of heel pain;
Treatment of ingrown toenails;
Healing of ulcer wounds;
Verruca Cryotherapy treatment. Highly qualified orthopaedist in Cyprus.
Podiatry in Cyprus
The clinic is run by Mr Michalis Polyviou, a highly qualified and experienced Podiatrist. Mr. Polyviou has graduated from Aston University (Matthew Bolton College) Birmingham UK with BSc (Hons) in Podiatry, he is also Certified in Prescribing Antibiotics for Podiatric
Practice and Advance Local Anaesthesia. Mr Michalis Polyviou is HPC, MChPS Registered in UK and Cyprus.
What is podiatry?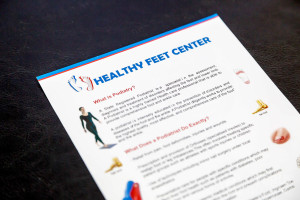 PODIATRY is a branch of medicine that studies and deals with foot and lower limb diseases. The podiatry combines knowledge on orthopaedics, traumatology, neurosurgery, purulent and vascular surgery.
A podiatrist is a medical professional specializing in the diagnosis, assessment and treatment of various diseases and disorders affecting feet and lower limbs.  A highly qualified podiatrist is able to provide a professional advice as well as recommend the most effective and comprehensive treatment method.
Treatment of feet and lower limbs in Cyprus
Healthy Feet Centre specializes in offers the following treatments and diagnostics:
| | |
| --- | --- |
| Biomechanical and Pedography Assessment | Sports biomechanics and injuries |
| We use our skills, expertise and knowledge in the field of biomechanical assessment and analysis; Using the pedography platform for measuring foot pressure in dynamic and static position of the patient, we are able to offer a precise and accurate diagnosis, as well as recommend a treatment for such biomechanical conditions as, Pes Cavus, Pes Planus (Flat foot), Intoeing, Plantar Fasciitis, Outoeing, Achilles Tendonitis, Heel Spure, Morton's Neuroma, Sesamoiditis, Metatarsalgia and Leg Length discrepancies. | Our wide experience in treating patients with sports injuries, such as Football, Basketball and Tennis, makes it possible to offer a top quality care and treatment to ensure fast recovery of athletes. We have a necessary expertise to treat conditions like Metatarsalgia, Morton's Neuroma, Achilles Tendonitis, Medial Knee discomfort, Lower back discomfort and Plantar Fasciitis. |
| Orthotics and Insoles | Cryotherapy (Verruca Pedis) |
| The clinic offers an examination using Pedographic analysis, which allows recommending and prescribing the right type of custom made orthotics for patients, who require them to reduce the discomfort and treat the pain they have during their everyday activities, as well as when standing or walking. | Cryotherapy includes the treatment of warts (Human Papilloma Virus) by freezing them with a cold substance (liquid nitrogen or equivalent). Cryotherapy is a widely used treatment for warts and can be done at the clinic's premises. |
| Nail Surgery | Foot care including, Calluses and Corns |
| Specialists of Healthy Feet Centre specialise in nail surgery or Partial Nail Avulsion (PNA) for patients with ingrown toenail issues. Prior to the surgery our podiatrists will assess the patient and develop a detailed plan of necessary surgical manipulations. The surgery is done under local anaesthetic, when a small part of the ingrown nail is being removed including the growing area at the base of the nail. To stop the nail re-growing a certain medicine is being applied. Patients are advised to rest the foot and wear comfortable footwear until the wounds heal. | Hardened layers of deformed skin that develop on the toes and feet, when the skin is exposed to the friction and pressure is called calluses and corns in medical terms. Visit of the Podiatrist is advised in case if calluses and corns become inflamed and painful. The doctor can offer a procedure of removing or trimming thickened skin or large corn with a scalpel. Patients are recommended to wear comfortable footwear and use orthopaedic pads to protect feet. |
| Diabetic Patients | Management of Wounds |
| High blood sugar levels can cause certain damaged of internal organs and body parts is diabetic patients. The damages can occur with patient's eyes, blood vessels, kidneys, heart and feet. Increased level of blood glucose can cause two main feet problems: Peripheral Vascular Disease and Neuropathy (Nerve damage). Podiatrist will assess the condition of the patient and will offer the necessary treatment to prevent feet problems caused by diabetes. | Professional doctors of Healthy Feet Centre provide the top quality service to all patients. Applying the latest diagnostic methods and techniques we will recommend the most effective treatment of non- healing and chronic wounds, resulted from Surgeries, Injuries and Trauma, Diabetes and Vascular Diseases. We offer a complete set of procedures to keep chronic wounds safe and promote the effective healing. We will also recommend effective wound management routines, special footwear and orthotics for our patients. |
| Podopediatrics | Advice on Footwear |
| Podopaediatrics include diagnosis, assessment and management of paediatric feet, lower limb and related problems in children. Healthy Feet Centre offers evaluation and effective treatment of various feet conditions, as well as treatment of systemic diseases. Our experience in treating such conditions as, Outtoeing and Intoeing, Valgum and Genu Varum, Toewalking, Supinated and Pronated feet, will help finding the optimal medical solution for every patient. | Doctors of Healthy Feet Centre will provide a comprehensive advice on footwear to be used in different climate and weather conditions. Experts will also explain the importance of choosing the right type of footwear for various daily activities, such as sports, walking and leisure to avoid the development of harming feet and lower limb conditions. Healthy Feet Centre experts are dedicated to offer the best possible service and advice to patients by educating them on routines and daily practices to always keep their feet young and healthy. |
Photo Gallery