The camel park in Mazotos is a great place for family fun. The park is located between three main Cyprus cities — Nicosia, Limassol and Larnaca.
Surprisingly, camels have inhabited Cyprus since historical times. Same as donkeys were used for transporting goods in mountain areas, camels were used for work, people and good transportation in planes and deserted areas.
The camel park was established in 1998, and since then it is run by Mazotos family with Mr. Xenakis being the manager of all park operations.
As per Mr. Xenakis, the camel park is not just a place for entertainment, attracting a large number of tourists, who want to see exotic animals. It is a live illustration of Cyprus history, where children and adults can learn about Cyprus traditions and way of living practiced hundreds of years ago.
The camel park features an area, where a traditional everyday life of a Cypriot family is being re-created, showing decorations and household items typical for Cypriot villages.
Park infrastructure
A well-groomed territory of the park, neat walkways, fresh greenery and beautiful flowers, as well as shadowed areas ideal for a hot summer day – all facilities are created for the comfort and wellbeing of park's guests.
The park offers a wide range of attractions and playgrounds, which will keep both children and adults engaged in attractive and exciting activities.
The following facilities can be found at the park's territory:
swimming pools;
playground for children;
restaurant;
mini-zoo;
mini-aquarium;
5D-movie theatre;
children's train.
Camel Safari in Cyprus
Camel safari is a truly unique entertainment available just in few countries around the world. Safari on camels will offer an unforgettable and unique experience for every guest.
A camel ride lasts approximately 10-15 minutes. The cost of one ride is 9 euro for adults and only 6 euro for children. The price includes the park entrance fee.
Every guest will be able to take memorable photos and offer a treat to camels, which are always being friendly with people. Camels will appreciate their favourite treat – carob pods, which can be purchased in the park for 1 euro for the whole bag.
Apart from camel rides, visitors can also ride donkeys or ponies.
Camel park consists of several enclosures, where ideal conditions for life and active reproduction of animals have been created. Visitors can see grown up and baby camels, as well as observe their everyday activities.
Entertainment and recreation activities in Cyprus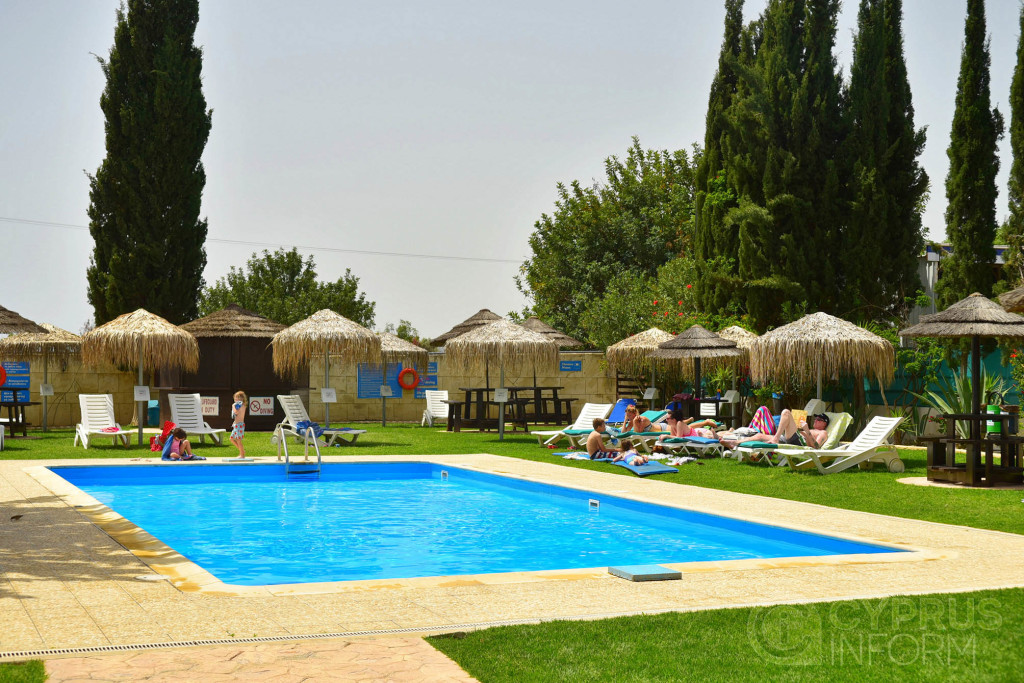 Apart from camels, the park is a home for donkeys, ponies, goats, ostriches, lamas, kangaroos, turtles, birds, fish and many other exotic animals.
A special facility offered to the guests visiting the park in summer is a big size swimming pool, which is so much needed in a hot summer day.
The swimming pool is secluded from the busy park area and is surrounded by the dense, refreshing greenery, creating a peaceful atmosphere necessary for good relaxation.
For small guests, a children's swimming pool is offered, which is located just next to the adult's pool.
Guests are also invited to visit a cosy family run restaurant to try traditional Cyprus meze and other great tasting dishes at very affordable prices.
Just before leaving the park, visitors will have a chance to pop into a souvenir shop with a great choice of traditional Cypriot products and memorable souvenirs reminding of a great day out.
Photo Gallery