Eyebrow Tattooing in Cyprus
Microblading, also known as 3D-brow, is a type of eyebrow correction, a permanent tattooing of eyebrows by applying make-up that entirely or partially masks the lack of eyebrows.
Methods of pigment implantation by creating a small incision in the skin has a thousand-year history, but the trend now to adjust eyebrows uses the unique technology that recently appeared in Asia.
Microblading is a manual or non-ink method of tattooing, in which each eyebrow hair is drawn separately and has a natural look.
The microblading needle technology has a significantly smaller diameter than those used in conventional tattoo application and an anaesthetic solution is applied to minimise any discomfort.
Microblading procedures are performed using disposable needles, and both the surface of the eyebrows and hands of the tattooist are sterilised.
Microblading uses a special pen with a disposable sterile blade, along with a variety of needles. During the procedure, a pigment is injected into the top layer of skin, creating the effect of extremely subtle and natural-looking hair.
Myths about Microblading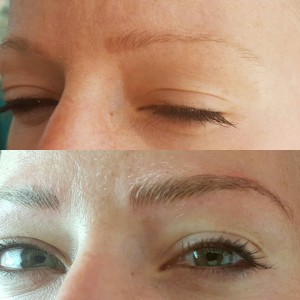 Methods of Microblading can damage the skin and leave scars.
Not true. Microblading does not harm the skin and does not leave scars. Only an inexperienced or unqualified practitioner can cause any damage. Microblading doesn't cut but just slightly scratches the surface, and the procedure is less traumatic when compared with other methods.
Microblading is painful.
Not true. The use of anaesthetics, where the tattoo is placed, tolerance for pain and professionalism of the tattoo artist should be taken into account.
Microblading is suitable only for those who want natural-looking brows
Not true. It's possible to create any desired effect by cleverly combining tattoo Microblading and shading.
Benefits of Microblading:
A quick and less painful procedure.
It gives the eyebrows a natural shape.
Every hair is drawn in the direction of natural growth.
The use of ultra-thin needles allows for a natural look.
Organic pigments are used, sterile and safe. Subject to the right technology, the dye does not change colour and fades evenly over time.
Correction is only necessary to emphasise the results already achieved.
Microblading in Cyprus
Professional certified Microblading master Stella Kuturuzi has been adjusting eyebrows for two years. Stella is the distributor for the primary supplier of Microblading equipment and materials from Germany and is a member of the medical institute Cellsan in Limassol.
Beauty Inkspired Cosmetic Tattooing & Microblading offers free advice and ensures the creation of perfect eyebrows.
All work on the creation and correction of eyebrows is made only by appointment. Call: 97 745911 and 70 000234.
Photo Gallery