Legends Guards Security Services is a dynamic company providing reliable and professional security services all over Cyprus.
The company is constantly investing in training of their specialists to ensure a top quality service and to be able to fulfil expectation and requirements of the customers.
All employees of Legends Guards Security Services are experienced and highly qualified security guards, who have conducted a professional training to meet the highest standards of quality and integrity.
Security guards of the company regularly attend professional trainings and seminars on terrorism and security standards using the latest technologies and techniques in personal and public security field.
Security services in Cyprus
Legends Guards Security Services professional staff members are committed to the safety and comfort of company's customers 24 hours a day and 365 days a year.
All security guards have completed a comprehensive training programme, which includes emergency situations, martial arts, defensive tactics, terrorism, fire safety, first aid, risk management, use of the latest technologies, electronics, and many more. The services of the company cover:
ports;
schools;
events;
hotels;
corporate office buildings;

airports;
factories;
supermarkets;
banks;
radio stations;

hospitals;
universities;
construction sites;
shopping centres;
telecommunications facilities.
VIP bodyguards in Cyprus
Legends Guards Security Services offers discreet and reliable services for customers, who might be at high risk in Cyprus or abroad. The company also offers luxury cars with highly qualified drivers for transportations of the clients, to prevent any possible risks or threats.
Employees of Legends Guards Security Services have experience working with politicians, public figures, businessmen, celebrities, and can guarantee the well being and safety of each customer.
Client / Family / Property protection
 Services

receptions and social events;
business activities in Cyprus and abroad;
protection in Cyprus and abroad;
protection of houses.

bodyguards;
escorting with security;
home protection;
security chauffeurs .
Close protection bodyguards in Cyprus
Legends Guards Security Services has special units for the provision of close protection services, the unit consists mainly of former military and police officers. The company offers close protection services for celebrities, politicians, businessmen, individuals, etc.
Legends Guards provides security services by ensuring comprehensive close personal protection in a high-risk areas and in high-risk situations.
Patrol car services in Cyprus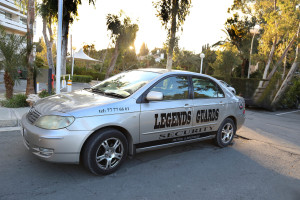 Patrol cars will ensure preventive patrol of customer's premises to prevent, identify and eliminate any type of possible criminal activity, vandalism, burglaries or any other threats before they even occur.
Patrol vehicles are well equipped for visiting and inspecting customer's facilities, locking and unlocking doors, as well as checking for any possible damages.
All patrol cars are equipped with modern hi-tech technologies and the most advanced models of alarms, radios, searchlights, fire extinguishers, first-aid kits, sound loudspeakers and other necessary equipment.
checking of external doors, automatic gates and window entrances;
locking and unlocking doors and gates at specific time;
prevention of theft and vandalism;
checking for water leakage and power failure;

checking on safety of the property;
checking on safety of night shift staff;
checking for fire risk;
arrival at alarm signal.
Security at the events
Legends Guards Security Services works closely with the event organisers and sponsors to ensure the safety of all guests and to prevent and eliminate any possible threats at the public events. The company provides security services at the following events:
concerts;
corporate parties;
opening of shopping centres;

sport competitions;
political meetings;
meetings;

receptions;
weddings;
carnivals and beauty contests;

festivals;
exhibitions;
open-air events.
Protection of public building facilities
Legends Guards offers protection of public buildings, infrastructural facilities, warehouses and other premises. The company has developed a high level of competence and professionalism in handling the most complex tasks. Our security guards will carry out a full monitoring of entries and exits of the building, guarantee safety of goods and control the movement of visitors to ensure smooth and safe operations of the entire building.
Qualified security guards will monitor the entry and exit of vehicles, safety of goods, movement of visitors, as well as safety and effective functioning of the entire building. The company will ensure safety of the following buildings and premises:
ports;
factories;
theatres;

airports;
construction sites;
supermarkets;

hospitals;
hotels;
museums;

office buildings;
schools;
shopping centres.
Key-holding services in Cyprus
Legends Guards Security Services offers a professional key-holding service to business and property owners. Our qualified professionals in key holding will save you stress and hassle of responding to emergencies and false alarms. The service is available 24 hours a day and 365 days a year. The services include:
responding to alarm signal;
mobile patrols;
locking and unlocking the building;
providing the access to the building or premises in case of loss of the electronic access card or the key, also for those who forgot an access password or are locked outside the building;

ensuring prompt reaction is case of emergencies, such as gas leakage, power failure, floods, etc.;
providing services of temporary safekeeping;
immediate reaction to intruder alarm or fire alarm signals
access to commercial ships.
Management of transport flows in Cyprus
Legends Guards offers fully integrated traffic management solutions for any type of events 24 hours a day. We will create a detailed traffic management or parking plan and install temporary traffic regulation signs to meet the requirements of event organisers, and to ensure comfort of guests and safety of vehicles.
Trained protection dogs
The company provides assistance of specially trained security and guarddogs, which are trained in finding people,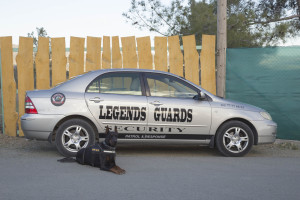 checking vehicles and premises.
Security dogs are also trained to protect the territory or premises, as well as to safeguard personal or business premises.
Protection dogs can be also used to safeguard public events and festivals, as well as provide personal and family protection.
Tracking and integrated security systems in Cyprus
Legends Guards Security Services provides installation, design and maintenance of sophisticated security systems to satisfy customer's business or private safety requirements. The company is offering security systems for monitoring of employees, anti-theft surveillance, as well as access control surveillance. The security systems include video cameras, motion detectors and sensors, water flow sensors, fire detectors and flame sensors, automated gates, intercoms, barriers, parking and access control systems.
Access control systems are an effective way of monitoring, controlling and limiting the movement of vehicles, people or assets through client's territory or premises. All ready-made standard security systems as well as custom-designed security solutions can be adapted to the customer's requirements and business needs. High quality security and monitoring systems guarantee effective management of employees and helps to improve safety 24 hours a day, 7 days a week, 365 days a year.
Photo Gallery