Pitsa Malikkidou & Lito Karaolidou pharmacy is the only homeopathic pharmacy in the centre of Paphos old town, located within two minutes walk from the Makarios Avenue shopping street.
A highly qualified pharmacist Pitsa Malikkidou founded the pharmacy in 1982. For more than 30 years Pitsa has been helping her clients to find optimal remedies for various diseases. Since 2011, her daughter Lito Karaolidou has joined the family business to help strengthening family traditions and introducing an innovative approach to the development of pharmacy business.
Pharmacy offers a wide range of homeopathic medicines.
Homeopathy in Cyprus
For the convenience of clients, Pitsa Malikkidou & Lito Karaolidou pharmacy always has homeopathic dilutions of 3D, 6D, 3C, 6C, 12C, 30C and other multicomponent drugs and.
The pharmacy also produces high-potency drugs of 200C and higher, as well as any homeopathic remedies on prescription.
All products are made from high quality raw materials imported from Greece, England and Germany.
Pharmacy consultations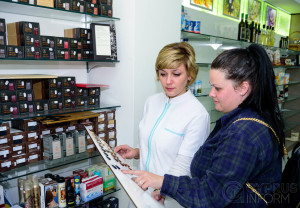 Pitsa Malikkidou and Leto Karaolidou pharmacy consults customers in Russian, English and Greek language. Highly qualified pharmacy specialists offer professional advice and personal approach to every customer.
Pharmacologists of Pitsa Malikkidou and Leto Karaolidou pharmacy will advice customers on use, dosage, side effects, interaction with other medicines, as well as correct administration of medications prescribed by the doctor.
Pharmaceutical advice is also provided for medicines purchased without doctor's prescription.
Medicines and cosmetics in Cyprus
Professional team of Pitsa Malikkidu and Leto Karaolidu pharmacy is ready to help with qualified advice on any product offered by the pharmacy.
medicines;
parapharmaceutical products;
personal care products;
medical cosmetics;
homeopathic remedies;
baby food;

medical products;
additional pharmaceutical products;
oral care products;
cosmetics;
vitamins;

pharmaceutical products;
skin and body care products for adults and children;
medicinal herbs;
food supplements.
Skin and body care treatments, as well as consultations of a make-up artist are available to customers free of charge and by prior appointment.
Photo Gallery