In the heart of Paphos – in the Old Port – 10 beautiful sailing yachts J/80s are dancing on the water. They are rockets in the world of yachting. Under the guidance of skilled yachts men  they fly through the waves  propelled by the force of wind. Here freedom starts, here you are alone with the sea and a white sail.
Yachting – the first step
It is often difficult to make the first step. Sailing, there is a a lot to learn before starting, without the correct knowledge it can also be dangerous.  There are many questions people ask who have never sailed before, its looks so complicated.
None of us was born with a sail in our hands but everyone can learn to be a yachtsman. If your dream is to feel the salty sea against your face here is a wonderful chance to make your dream come true.
Sail First offers trained professionals and tutors who will take the responsibility for your first sailing experience and will try to make it unforgettable. You only have to make a call and you will get answers to all questions. Russian and English – speaking personnel are at your service.
Yachting school
A yachting school for children and grownups offers different teaching programs. From an after school  group, where the course lasts for a whole school year, to intensive courses for grownups and children, which will help you enrich your holiday whilst learning useful skills and receiving an international certificate within a week.
Yachting never goes out of fashion! A nice suntan, an athletic body, a cheerful disposition is what fans of sailing are known for. Yachting is not only about the sport adrenalin  and activity , but also about the wonderful company of friends, a team in which camaraderie and a team spirit are the key.
Yachting is not only an art of sailing, this is real school of life, where a team of professionals from Sail First invites everyone.
Professional yachting
If you do not need training and are already experienced on а racing J/80, Sail First can organize a sailing regatta for you and your friends. Technical support, Judging, rigging, support power boats, buoys and professional skippers, are all on hand to make the event a success.
After the race is an awards ceremony, a festive dinner – they are experts not only in sports, but also in organizing and having fun!
Corporate events
A stuffy bowling room, a boring restaurant, a country health farm… How else can you celebrate a company's anniversary in a proper way, make your colleagues happy and give them new experiences? organization of corporate events, which combine a regatta a conference and a holiday on the sea is one of the specializations of Sail First.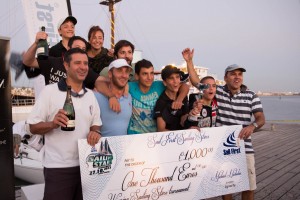 Yachting is a team sport, where adrenalin flows and cooperation is fun amongst team members. What a wonderful chance to leave all your troubles and stresses on shore, inhale fresh sea air and give yourself away to the elements.
But a corporate event is not only about races. It is so pleasant to relax in the calmness of the mountain monasteries of Troodos or at a genuine ranch, where you can have a ride.
And, of course, unforgettable Cypriot evenings, when an evening feast becomes not just food,  but an event, which accompanies an awarding ceremony, a parade for the sailing heroes, who have had overcome their doubts and stepped on the swaying deck of a yacht for the first time!
Stories about Sail First:
Photo Gallery