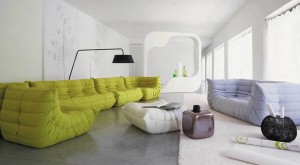 Sideris Interiors, operating for over 40 years, is one of the best-known furniture companies in Cyprus.
Sideris Interiors presents various European brands, including the prestigious French brand Ligne Roset, which won numerous awards for design over the last decade.
Sideris Interiors has complete sets of furniture and accessories for every room, including a range of alternative brands such as:
Sits — sofas;
Domitalia — tables and chairs;
Compar — tables and chairs;
Bolzan — bedroom furniture;
Talenti — outdoor furniture;
Forestier — lighting;
Linie Design — carpets.
Sideris Interiors also offers the Vox budget line, which is perfect for apartments and student accommodation, plus a collection for children and teenagers.
All furniture at Sideris Interiors is very stylish and carries a European Union certification.
Sideris Interiors' professional team of designers will help you choose the appropriate furniture, as well as prepare a 3D-project of the future interior.
Ligne Roset
The French brand Ligne Roset is synonymous with modern luxury and offers customers enjoyable cutting-edge design and a way of life.
Ligne Roset collections are distinguished by courage and beauty of conception, the availability of free decorative accessories, harmonious lighting, carpets, textiles and attractive interior.
Domitalia
Through continuous investment in research and development, the furniture of the brand is distinguished by high flexibility and innovativeness.
Domitalia specialises in the manufacture of chairs, cabinets, dining and coffee tables. All items from Domitalia are made strictly in Italy.
Compar
Compar has been producing furniture since 1984 and since then have created a number of domestic and collective furniture pieces, characterised by the unmistakable modern design.
Compar specialises in the manufacture of chairs, tables and furniture accessories.
Sits
The Sits Company has 20 years of experience in the development, design and production of upholstered furniture. The range of the company's products is of consistently high quality. Sits annually produces around 1 million sofas and handmade chairs.
Sits' assortment of products includes sofas, beds, chairs and tables.
Talenti
Talenti's products are a blend of tradition, creativity and innovative spirit. Advanced technology and extensive market research allow them to create a powerful and flexible production of outdoor furniture.
The company's products are of metal, aluminium, handmade fabrics and polypropylene, which are the most resistant to any climatic conditions.
Bolzan Letti
Everything by Bolzan Letti is made using high-quality components and finishes. The reliability and modernity of Bolzan Letti's products allow the company to take a high position among the leading enterprises in the market of manufacturers and suppliers of upholstered beds and accessories.
Photo Gallery