The Sunwood Heater was designed by Sunwood Dutch Design. A Dutch family run business specialized in outdoor gas fires. Sunwood products are made in Holland and can be seen all over the world. Sunwood patio heaters are currently also available in Greece and Cyprus!
In January 2017 we joined the Sunwood family being the exclusive distributors for Greece and Cyprus and we are very proud to offer this unique fireplace to warm your outdoor area. Suitable not only for Hotels, Bars, Restaurants but also for any exterior space including your home terrace and backyard.
SUNWOOD FOR GARDEN
The Sunwood Heater is perfectly suited for use in your backyard or garden at home. It makes your evenings more enjoyable but also it keeps you warm.
SUNWOOD FOR HOSPITALITY INDUSTRY

Sunwood Heater is suited for use in the hospitality industry. The design and the flames will create a refined atmosphere on the terrace of your venue and will keep your guests warm.
SUNWOOD ON A YACHT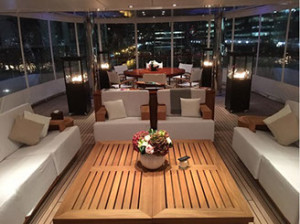 Sunwood Gas Fire can lights up the atmosphere on a yacht and can keep the tented areas warm and cozy. Likewise, it's easy to move and absolutely safe.
WHY YOU NEED SUNWOOD PATIO HEATER
It makes evenings more enjoyable
35 burning hours at full power
Dutch design and manufacturing
Sustainable materials and parts
Intensive quality control
Easily movable
Height of the fire adjusted effortlessly
1 year manufacturer's warranty
Produced in accordance with European legislation CE