The Mediterranean island of Cyprus, aside from its azure coast, has many unique attractions. If you're coming to explore, as well as get a tan and enjoy the water sports, then you'll need transport.
The public transport system is primarily designed for travel to, and around, the cities, and it's impossible to reach remote areas of the island by bus.
Many tourists rent a car and it's an easy way to solve the transport problem.
The purpose of renting a car
You should decide what you're going to do during your vacation and where will you stay. If you're staying at a large resort and you'll spend most of the time on the beach, with maybe only 1-2 excursions then, of course, it's more expedient to use a tour company.
If your plans are to have numerous trips around the island, or you are staying in a quiet area a few kilometres from a large city, then renting is an ideal option for you. Sights, museums, shops, bars and restaurants are located in different cities and at a considerable distance from each other. The cost of car rental is around €40 per night; a taxi will cost from €10 for a 15-minute trip.
Troodos Mountains are a fascinating place to visit in Cyprus, with numerous ancient temples, villages, wineries, unique museums and authentic Cypriot tavernas, and it can often take several days to see it all properly.
Renting a car without a driver brings up the question about planning the route to include the places you want to see. With your own car, there's no need to stick to any schedule, and you can easily communicate with other tourists and groups.
Hiring a car with a driver is ideal for those independent travellers who don't want to deal with left-hand driving. As a rule, the price includes a few hours of car rental with a driver, and for every extra hour, there is an additional charge.
Remember about the gas mileage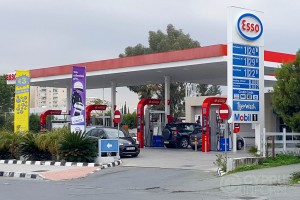 On top of the rental cost, the car will also need refuelling, so consider the engine power and fuel consumption when choosing which car to rent.
Normally, the rental company gives you the vehicle with a full tank. You can either reimburse the company or fill the car up with petrol on return.
Petrol stations in Cyprus offer three types of fuel: gasoline A95 and A98 and diesel. As at January 2017, petrol in Cyprus cost €1.24 per litre of A95. You may find an electric vehicle charging station, but these cars are currently not available for rent.
You can use cash or credit card to pay for fuel at the petrol station. On weekdays, the petrol stations have plenty of staff available to help fill the car and take payment for the fuel, but evenings and Sundays is often self-service.
Particular attention to the rental agreement and insurance
The standard lease agreement in Cyprus is for drivers aged between 25-70, with not less than three years experience. Some companies have proposals for drivers aged between 21 and 25 with two years experience, and from 71 to 75 years, at a possible extra cost.
Payment requires a credit card, passport and driving licence. National Russian Licences and international driving permits are accepted by Cyprus car rental companies. Be prepared that a deposit of around €200 will be frozen on your card.
The major car rental companies in Cyprus include unlimited mileage in the price, but a driver is extra.
There are two kinds of auto insurance in Cyprus:
Important!
Usually, the car price includes insurance against damage from a third person (third party insurance). Take note of the presence / absence of a franchise (excess / no excess). If there is a franchise (size may vary between companies, but usually not less than €500), then in an insured event expenses up to the amount specified in the contract will be borne by the hirer of the car. There is usually an extra charge if no franchise.
Important!
Full insurance covers the cost of damage to someone else's car, and also yours. Please note that the expense of tyre and glass damage is not usually included in this type of insurance.
Insurance will be cancelled:
if the driver is drunk;
if you drive to the occupied part of the island;
If you go off-road.
Availability of Vehicle Registration
All machines for hire in Cyprus have red number plates (private cars have yellow or white). The presence of red plates means the car has passed the state registration and licencing to be hired.
Red plates don't mean the driver is not accountable for any violation of traffic rules. Basic traffic regulations are not much different from those in Russia or other European countries; the only significant difference is left-hand drive.
The main features of the SDA in Cyprus:
Seat belts should be worn by everyone in the car.
Children under ten years should use special child seats.
Children under five years are forbidden to travel in the front of the car.
Phones can only be used with hands-free (fine of €85).
Speed limits in Cyprus:
50 km per hour — town;
80 km per hour — outside of village;
100 km per hour — motorway;
65 km per hour — the minimum speed on the motorway.
Age of vehicle
Major car rental companies in Cyprus closely monitor the age and condition of their fleet and their vehicles are not usually older than five years, whereas small private rental companies can have cars ten years and more.
Remember that the age and condition of the car will have a direct impact on your safety and the lives of people close to you.
Choose the rental company and vehicle for hire carefully, read the contract thoroughly and do not hesitate to ask questions.