Оlympus – Snow in Cyprus!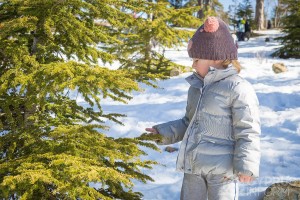 Just the day before yesterday I was swimming in the sea as the temperature is a lovely and warm 18 degrees.  But today I want to see snow.
Life in Cyprus allows us to do both – little more than an hours' drive along a winding mountainous road and…..
15 minutes before the end of our journey and there is still no sign of snow.  We pass the village of Platres, but still no snow and the thermometer shows +15 degrees.  We travel further, leaving Platres, in the direction of the Troodos village.
Snow in the mountains of Troodos
Now we start to see patches of snow on the side of the road and gradually, as if by magic, piles of snow appear on the stony dark mountain slopes.
The children in the back of the car are excited – they haven't seen snow for a whole year!
The road winds between a slope and a precipice and there ahead of us is the memorable little restaurant, Dolphin, near the entrance to Troodos.
My daughters want to make snowballs but there isn't enough snow here.
Don't worry, there will be enough snow.
Mount Olympus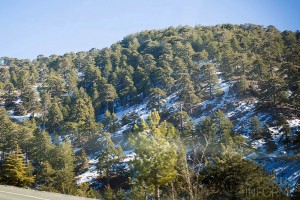 We pass the central square of Troodos and turn left and see the sign to Mt. Olympus, the final point of our journey, 3km away.
I can't believe it.  Just three kilometres!  We drive up the steep road to a spacious parking area, and we are in a winter forest!
We are at a height of 1,900 above sea level.  Wet snow crunches under my feet and as the sun moves west, a pink tinge mingles with the bright greenery of pine needles and the dazzling whiteness of the snow.  The temperature is +5 degrees, perfect weather for walking.
The girls tear along to the slope – snowballs, sledging, laughter – what can be better than moments like this?
Mountain skiing in Cyprus
Not only will the children be happy here but skiers and snowboarders will also have a wonderful time.
The ski centre is open daily from 9am – 4pm.  You can rent equipment at a cost of €16 for a whole day for adults and €12 for half a day.  For children aged between 5 and 12 years the cost is €13 and €19 respectively.
The centre has training courses for those who wish to learn to ski.
Group training starts each hour. Оne class for a child costs €10, €15 for adults. Individual classes are more expensive – €25 per child between 5 and 12 years of age, and €35 for an adult.
Mountain ski resorts of Cyprus
4 gondolas serve the mountain slopes – two in Sunny Valley and two in the north of the ski centre.  A ticket costs €16 for half a day and €23 for a whole day.
Ski runs are regularly rolled with special machines but, of course, this is no Courchevel.  There are no fashionable hotels here, whilst the centre itself looks very modest.  The hut is proudly referred to as a chalet by a local trainer (ref. below) and the restaurant is similar.
However, if you pay no attention to this you can have a very good time skiing.  The happy faces of the skiers testify to this – tired and satisfied, going back to their cars with their snowboards under their arms.
This is heaven for children, especially those who remember Russia and miss the snow.  This season lasts for about two months – this is the time for those who love the snow and mountain air, sledging and skiing.
Drinking a cup of real Greek coffee in a small Troodos café, or having lunch in the cosy restaurant, Neromilos, enjoying a crackling fire, is such a pleasure, while in just an hour you will be enjoying the sights of the warm Mediterranean again.