A Home Restaurant of Czech Cuisine in Troodos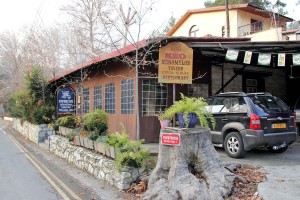 The restaurant is located in Pera Pedi, between the villages of Тrimiklini and Platres, near the most popular tourist routes оf mountainous Cyprus and half an hours drive from Limassol.
It is a convenient place to stop at in the middle of your trip to recover strength, or have dinner at the end of an exciting, big day.  Neromilos is worth coming to especially for lunch or dinner.
The dining hall of the restaurant is designed as a hunting hut. A cosy veranda under a sun shade, draught Czech beer and a wonderful meat table: stewed game, wild boar's knee, homemade smoked sausages and many others; Wonderful Cypriot wines and, of course, the warmth and friendliness of the owners – Gаbriella and Khrisis.
Review from Cyprus Inform
Neromilos was recommended to me by friends soon after my first visit to Cyprus. I came to the place many times and was never disappointed. This is a family business, the eatery belongs to a charming couple – Gabriella from the Czech Republic and Cypriot Khrisis.
Gabriella speaks good Russian, she traditionally picks up the telephone, meets guests, takes orders and controls the cooking of dishes. She is an amazingly friendly woman who has the time for everything, staying in the centre of a real gastronomical feast.
Many people associate her name with the restaurant saying just "Let's go to Gabriela's!" A wonderfully kind creature, the Rafael, or just Rafa labrador meets guests together with the hostess. The dog seems to impersonate the peaceful nature of its owners.
Interior
The hall of the restaurant is designed in the style of a hunting hut with skins of boars and badgers, deer's horns, wood, a fireplace and massive tables. In winter, when returning from a trip to the snowy summit of Оlympus, this provides you with all you need – a real fire in a fireplace, warmth, muted lighting and the magical smell of food cooking in Neromilos.
In the summer months, going to Troodos with its mountain coolness, sitting on an open veranda with a cold unfiltered Czech beer is just amazing.
Yes, people come to Neromilos to eat meat.  This restaurant isn't suitable for fasting or dieting. After taking a seat, do not ask for a menu – let Gabriella tell you herself what she has cooked today for other guests.
Appetizers
While you are contemplating a hot dish, appetizers appear on the table as if by magic – green salad and small plates with dips and salads – do not even think of rejecting them, this is a marvelous start to the meal (mixed appetizers, €12)!
You can add to your order with sauerkraut and pickled cucumbers, perfect for those who like drinking spirits, but for those who prefer wine, Neromilos has wonderful selection from local vineries. Try wine from Kostas Konstantinou, for example. Speaking of drinks, one cannot help but mention the tasty homemade stewed fruit and cranberry drinks (€2.50 per glass or €10 per jar).
Hot Dishes
I recommend trying a spicy, moderately hot stewed deer (Goulash Deer, €16). It is served in a small casserole hanging above a candle, and each participant of the meal can put some of it on his plate and add amazing сreamy pureed potato (€3.50) or stewed sauerkraut (€4.50).
Do not miss the hоmemade smoked sausages (€8.50), which Gabriella cooks herself. The tenderness of the chicken shashlik is amazing and unforgettable (Chicken Kebab, €11) – this dish will be appreciated not only by grownups, but also by children. You can also order pork stewed with cream for children (Goulash Pork, €15).
But I would definitely call wild boar's knee Gabriella's main course! Or, to put it simply, a pork shin (Pork Leg, €25). This dish strikes your imagination: a mountain of meat on a wooden board. The tender meat just falls off the bone.  This dish is not to be missed!
There is also a chapter in the menu, where dishes need to be pre- ordered.  Just let them know when reserving your table that you want to try a wonderful rabbit in cream or pepper stuffed with meat in tomato sauce, for example. A fully baked duck is amazingly tender.
You usually do not get as far as dessert, maybe only a glass of Bechrovka or vodka, or a cup of coffee.  Espresso's classic strength is wonderful.
Conclusion
As a conclusion, I can only give my highest recommendation about the restaurant. It is cozy, warm and the food is amazingly tasty in Neromilos. Organizing a small party for a company of friends or coming here as a couple for a romantic meal is a good idea.
The grandeur of the Troodos mountains seems to become a divine frame to this hospitable eatery.
Maxim Okulov
Photo Gallery