Kissos Taverna – this is a legendary taverna in Limassol that won the TripAdvisor Travelers' Choice Award in 2020!
The tavern was founded back in 1982.
Its story began as a family café and then became a restaurant in the tourist area of Agios Tychonas, opposite the Four Seasons Hotel.
In 1988 the restaurant was converted into a tavern.
The family is constantly making changes to make guests feel at home and enjoy a varied menu.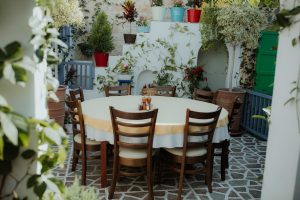 Not surprisingly, over the years, they have managed to attract new customers and pleasantly surprise loyal customers, providing them with the most enjoyable dining experience.
When you visit the Kissos Tavern, you will most likely be greeted by a family member or friendly staff member.
It is an ideal place for individuals to hold a business meeting,
have a delicious lunch, organize a family or romantic dinner or even throw a party!
Combination of green atmosphere and large aquarium with colorful tropical unique fish
(the largest in the Mediterranean – 45,000 liters), the ambiance of the restaurant and the ambiance of a recent renovation will take you to a small town square in a village surrounded by flowers, plants and trees.
Cuisine and Menu
Kissos Tavern is for those who love traditional Greek Cypriot cuisine (Kleftiko, Stifado, Meze, Moussaka) and a variety of European dishes.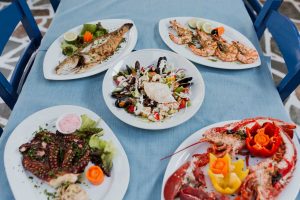 You will always be offered the freshest seafood, mussels, octopus, lobsters and oysters. The red mullet is just gorgeous!
Also, the menu contains Russian dishes: delicious borscht, dumplings, salads, okroshka and even homemade kvass!
The tavern offers a wide selection of fine wines and other drinks, including Cypriot ones, combined with fish, meat or vegetarian dishes.
The menu is presented in Greek, English and Russian. A children's menu is also available.
Staff of the taverna speak Russian, English and Greek.
Booking and delivery

For reservations call +357 25321026
You can also order meals online through the Bolt apps and 
Foody.
This tavern has a lot to be proud of and we would gladly recommend you visit it!
TripAdvisor Travelers' Choice of 2020