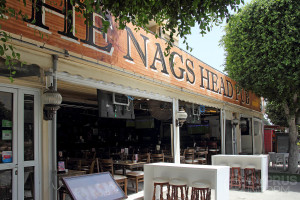 Cosy place in the center of tourist area of Limassol. This is a traditional pub with a good variety of draught beer and cider, full range of spirits, good quality wines and traditional cocktails in the menu.
The cuisine is represented mainly by meat dishes, which are cooked excellent. There are interesting positions in the menu for fish and seafood lovers.
In Nags Head Pub they serve not just food and drinks, but also a great mood! You can also find a large choice of English and Russian songs available in the karaoke library. "Alcohol casino", with spirit drinks as a prize, is outstandingly popular. Nags Head Pub welcomes big companies, organizing birthday parties and corporate events.
Cyprus Inform review
I often visit this quite street, and before I was usually passing by Nags Head Pub – loud and crowded place. I used to consider it as a karaoke for British people. However, I was happy to change my opinion regarding this cosy pub.
Pub or a brewery – whatever it is – Irish, German or Russian – is a place for communications. Agreed? Beer, food and entourage are nice additions to the main thing, – which is good mood, so much appreciated by the customers. Kypros, the owner of Nags Head Pub, has successfully developed the science of giving people happiness.
Interior of the Nags Head Pub
There is new furniture in the pub – massive wooden comfortable chairs and tables, soft leather sofas, pleasant lightning. You get the feeling of secure and warm place, where you will definitely feel good.
Maybe the warmth is created by two fireplaces, awaiting for winter season, but most likely the reasons are warm smiles of waitresses.
Food and drinks
There are nice varieties of draught beer and cider in Nags Head Pub – Hoegarden, Guinnes, Strongbow, etc – everyone will find his favorite drink. As well you will find a large variety of spirits and cocktails in the bar, along with a small, but carefully selected wine menu.
And the food. Yes, the chef knows everything about cooking meat.
Burgers (The Nags Original Burger, €7,50) are made from quality beef and are prepared according to your preferences – rare, medium rear or well done. Crusty bread, juicy beef, sauce, vegetables: surely, these are not for a healthy diet, but for ultimate pleasure!
Beef steaks (€19,95) in Nags Head Pub are excellent – appropriate roasting, caramelized crust and juicy meat.
Pork ribs (€14,95) – serious dish for a hungry man – soft meat under sweet and sufficiently spicy BBQ sauce. This mouthwatering dish you eat just with hands… No forks and knives.
And, of course, Nags Head Pork Chop (€11.95). The size amazes! It slightly suits the plate. The meat is well marinated and excellently fried – well done, but very juicy.
If you want a salad, try Fiesta (€10,95). This is classic from Latin America. Fresh salad leaves, red beans, vegetables and soft grilled chicken breast slices, accompanied with Mexican dips – salsa and guacamole.
Atmosphere and entertainments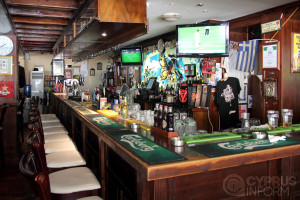 But Nags Head Pub so popular not only because of food, but also because of "Alcohol casino", you should try it. Always when you order alcoholic drinks, they giving you some fishes, with which you can play black jack and roulette. Fishes you won, can be exchanged for alcoholic drinks.
And, of course, karaoke. Have you ever noticed, how different singing Russians and Englishmen? Try and compare! Show them singing and mysterious Russian soul, moreover, as I told before there is huge collection of Russian songs.
Instead of conclusion
The Nags Head Pub located in the touristic part of Limassol, the place where you can have best moments of your life.
The Nags Head Pub is the good place for sitting alone, two or with a company of friends, you can also have a birthday or corporative there. Here, in Nags Head Pub, stuffs always welcome to the good and jolly people, who knows the sense in foods and drinks.
Maxim Okulov
Photo Gallery