Lounge bar and café in Pее (Pаphos) is an eatery with a warm atmosphere and serves a mixture of Cypriot, Mediterranean, European and American dishes. A secluded restaurant located high on a mountain slope with wonderful views of Paphos and the sea through panoramic windows. There is broadcasting of sports events (Formula-1, UEFA and others) and live music on Thursdays in the summer time.
Review from Cyprus Inform
Who never flew in his dreams? A magnificent feeling! The roofs of houses and the street lights sweeping underneath, a sliver of the sea shore nearing and the red disc of the sun slowly sets behind the horizon, whilst a glass of cold beer and a juicy meat steak stand in front of you… «This is too much – you would exclaim – such things never happen!»
But they do! You simply have to know the right places. When we visit the sea, we normally look for romantic places on the shore, forgetting all about those wonderful little restaurants up in the mountains, where from the windows you get a breathtaking panoramic view of the city and the sea. Green Hill is a cosy eatery, located in a remote place on a mountain slope, about a 20 minute drive from the touristic centre of Paphos. If you are going to visit the zоо of Paphos, plan a visit to Green Hills too as it's very close by.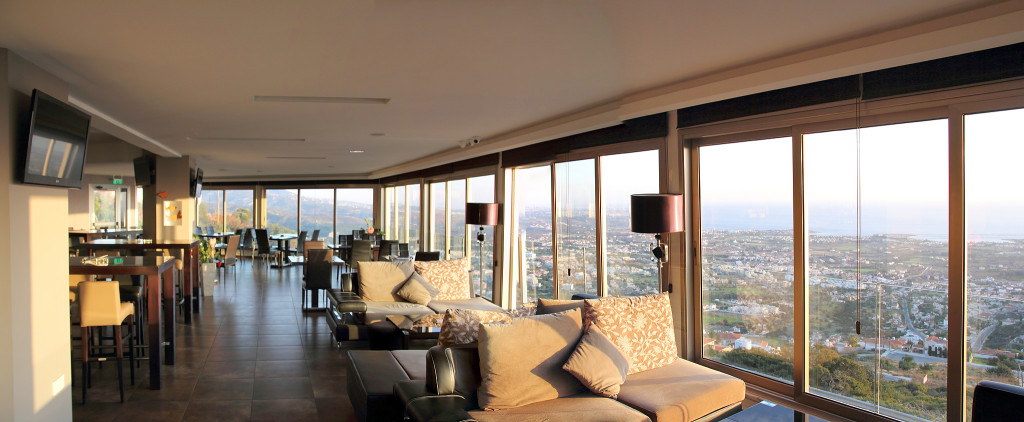 Green Hill has everything to make visitors comfortable – large panoramic windows, an open veranda to take in the fresh air, soft sofas and low tables, where you can sit comfortably with drinks, and tables and chairs for a full-fledged meal. The design is modern with leather, glass, natural stone and stylish coloured backlighting. There is ample space between the tables, and you will feel comfortable even if you arrive in a large group.
Seafood
Romeo Salad (Romeo Salad, €7.50) will be good for a romantic meal: a mixture of salad leaves, pine nuts, tender chicken breast and sundried tomatoes. A delightful sweet mustard and honey dressing gives spice and beauty to the dish. Тhe seafood theme can be continued by wonderful king prawns (Honey King Prawns, €13.50): 5 large prawns in a thick honey and thyme sauce.
Pasta is also served in the restaurant – the tagliatelle with hot beef is worthy of your attention (Spicy beef tagliatelle, €8.50). A giant burger (Monster Green Hill Burger double burger, €8.80) will dazzle those who love burgers.
Meat
The beef steak is commendable. I have tried it with pepper sauce (Tender fillet steak, €19.50). Try the Lamb Shanks – Lamb Shanks (€13.50) – stewed meat on the bone with a sauce of red wine with rosemary and mint – a classic finish to lamb.
Green Hill is a restaurant where you must come to enjoy a wonderful view whilst drinking a glass of beer or Cypriot wine. The restaurant is especially good at sunset when the sun, tired after a long day, is descending into the sea. This is the time when you can forget everything.
Photo Gallery