Chinese cuisine in Cyprus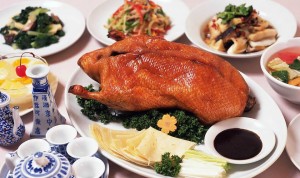 Chinese cuisine with its complexity, variety and richness of tastes and flavours, is undoubtedly one of the most popular cuisines in the world.
The main goal of the restaurant owner – Mr. Che Hua Li, who has moved to Cyprus from mainland China, is introducing local people and visitors to the traditional Chinese cuisine and new vibrant dishes.
Professional and friendly team of Yummy Mandarino will ensure an unforgettable experience for every guest, and will offer the best dishes of East Asian cuisine, which are made according to the authentic recipes.
Menu
Yummy Mandarino offers a great variety of traditional and authentic dishes of Chinese cuisine, including:
soups;
dishes with vegetables;
dishes with tofu;
dishes with chicken meat;
dishes with duck meat;
dishes with beef meat;
dishes with pork meat;
seafood dishes;
Chinese dumplings;
rice and noodles;
desserts.
Chinese food takeaway and delivery in Nicosia
At Yummy Mandarino you can order healthy and freshly prepared Asian fast food at affordable prices.
The food offered for take away and delivery is prepared by chefs of the Chinese restaurant, using traditional cooking methods and variety of spices, while creating a truly authentic chicken, beef, pork or vegetable dishes.
The service is available during the restaurant's working hours.
Festive events and parties in Nicosia
Chinese cuisine restaurant Yummy Mandarino will create the perfect atmosphere and environment for celebration of a special occasion.
The restaurant can provide a specialized, custom made menu and decorate the dining area with special accessories to create an unforgettable celebration experience for the guests.
Yummy Mandarino offers to organise catering or host events:
wedding banquets;
seminars;
conferences;
birthday parties;
Christmas parties;
corporate events;
any other special celebrations.
Photo Gallery