Adventure Mountain Park is the place, where everyone can find the most adventurous outdoor activities, enjoy traditional dishes in the local restaurant and have a relaxing time while enjoying the facilities of the camping site.
The mountain adventure park is located in the Troodos Mountains, in the village of Kyperounta, just 40 km from Limassol and 58 km from the capital of Cyprus – Nicosia. The park offers a great time out for the whole family, a company of friends or colleagues.
Adventure Mountain Park offers modern equipment for any kind of activities. Our professional and highly qualified team also ensures safety of the park equipment.
Outdoor activities in Cyprus mountains:
Paintball
Paintball is a sports game suitable for men and women. This is one of the best team games, combining action, determination and great fun.
Woodland Paintball
Paintball in the forest is a traditional paintball played in the forest. This is an adventurous and educational game, which will sharpen the senses by making the game experience more realistic and unpredictable.
Rock Climbing
Rock climbing is a sport that will cause adrenaline rush and lots of strong emotions. All participants of this sporting activity are provided with the professional equipment and are assisted by qualified personnel.
In addition to the rock climbing, Adventure Mountain Park offers adventurous trips to the most exciting and incredible places around Cyprus, popular for rock climbing.
Laser Tag
Laser Tag is a fun game for families and children. It is an alternative version of paintball using infrared laser instead of paint and ensuring similar excitement and fun.
Archery
This sport is about learning and sharpening shooting technique, being not so much of a physical activity, archery can help to develop strength and improve concentration. It is suitable for all age groups.
Ice Skating
Thanks to a special plastic coating, imitating the real ice, skating is possible all year round and in any weather.
Orienteering
The game is designed to put into work a creative thinking and physical abilities of participants. You can win the competition, if you will show the ability to make efficient and quick decisions.
Team Games and Corporate Events in Cyprus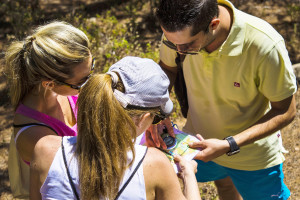 Adventure Mountain Park also offers an excellent opportunity for team building events. All necessary facilities are available for companies and organized groups to make an efficient corporate event designed to strengthen the team spirit and improve the environment within the organisation.
The game "Compass"
One of the most interesting and realistic gaming activities at the adventure park. The game takes place in the forest, where participants, using a simple compass, need to calculate and find their way out of the forest. On the way they will have a chance to demonstrate organisational skills and show a strong team spirit, while overcoming various challenges. As per the feedback, "Compass" is considered to be one of the most exciting team building activities in the Adventure Mountain Park.
Amenities in the adventure park:
Restaurant and cafeteria, where authentic dishes of traditional Greek and Cypriot cuisines are being served, using high-quality fresh ingredients. You can enjoy a drink or a meal by the fireplace in cold weather, as well as relax on the outdoor terrace, while embracing a picturesque mountain view.
Camping site is a special place in Adventure Mountain Park, which gives a unique opportunity to experience nature, while living there. All the necessary equipment is offered to the guests. Booking is possible for individual, group or company use.
Botanical Garden is a brand new place in the adventure park, where everyone can enjoy the natural "treasures" of Cyprus, including flowers, plants and herbs, as well as discover their healing properties.
Trekking – for guests wishing to take adventures outside the Mountain Park, we offer hiking trips and nature trail walks on the most scenic forest paths.
Photo Gallery