Mocassino is a shop of fine Italian women's shoes made of genuine leather and suede (location on Google Map) in Limassol. Customer service, a passion for fashion and stylish shoes and a desire to adhere to fashion trends has long been a trademark of this shoe heaven.
For more than 35 years Mocassino has offered a variety of fashionable and practical shoes at affordable prices which appeal to girls and women from 16 to 65-year-old.
Professionals
Mocassino is a family-run business which opened in Cyprus in 1982 and now sees its popularity amongst third generation customers.
The owner of the store, Nikki Speer, books a collection for each season, bearing in mind the fashion trends and demands of locals. With many years experience, Nikki knows how to select the best, and now her eldest daughter, Vanessa Spirou helps her with this delicate work.
The friendly staff in Mocassino will certainly provide you with a shoe that combines quality, elegance and comfort at an affordable price!
High-quality shoes for women in Cyprus
Footwear accentuates a women's mood, her personal style, gives confidence and bearing. Therefore, it's important for a model you like to be both convenient and comfortable. Mocassino works with various well-known manufacturers, and therefore all models are created by professionals from high-quality materials for your convenience.
Purchasing shoes in Mocassino will transport you into a world of beauty and comfort, where practical models can also be comfortable and luxurious.
Italian leather shoe сollections in Cyprus
The range of the shop is updated each season so you can find both winter and summer collections.
In addition to high-quality leather and suede shoes, you will find a good selection of accessories for women to complement your individual style: refined scarves and comfortable handbags. All these details underline the client-centric approach of the owner of the shop to meet all the customers' expectations.
Prices and discounts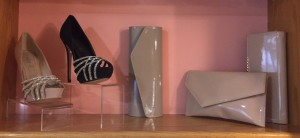 An especially nice bonus for the customers is the reasonable price for the whole range of shoes and accessories. Since the products are purchased every season, at the end of each is a season discount.
Bonus for holders of Cyprus Inform discount card
In the Mocassino shoe store you can always use the Cyprus Inform discount card to get a discount on a new collection!
Photo Gallery