Why do we use jewellery? The answer is simple.
Earrings, rings, bracelets, brooches — all these and other adornments allow us to change, add flavour to an outfit, set the mood and keep up with fashion trends.
Any outfit can be given a new look when completed with beautiful and stylish jewellery.
Costume jewellery is always relevant, suitable for absolutely any occasion and created to please us and amaze others.
Beach Jewellery
In Cyprus, where the beach season lasts from March to October, a bathing suit is a must-have, and even if you only have the one, it can be given a new look using the right jewellery.
The brightest ornaments will certainly fit the beach image, and you can smoothly move onto a beach party where you will shine, quite literally.
However, not all jewellery can withstand contact with salt water.
The ideal material for beach jewellery:
beads;
glass beads;
shells;
corals;
pearls;
natural stones;
plastic.
Costume jewellery from nature and natural materials can be easily combined with the colour of a shawl, hat, sunglasses and swimsuit fabric.
Men give more preference to beach accessories — waterproof watches, sunglasses, bandanas, caps or hats.
| | |
| --- | --- |
| Beach Options for Women: | Sun options for men: |
| finger and toe rings; | a bracelet; |
| bracelets and chains on wrists and ankles; | necklace; |
| necklaces with stones / pendants; | earrings; |
| earrings (large, with stones); | mascot / pendants with, anchors or bullets. |
| brooches. | |
Jewellery for the office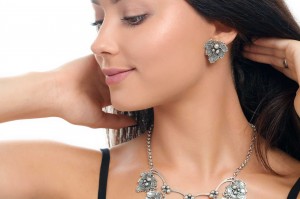 With it, office clothing is transformed into stylish and elegant attire. At the same time, this type of jewellery should be restrained in design, decor and colour.
Too much jewellery here is not recommended – no more than three items.
There is a place for men's jewellery in the office, apart from the usual watches and cufflinks.
Jewellery for women:
Jewellery for men:
 classic "carnation" (stud) with pearl beads and sequins;
 bracelets made of leather or beads
conservative colour that can be worn in a pair with a watch;
 necklace with an interesting finish;
 1-2 rings (Signet) on both hands (including the
wedding ring finger);
 gold-plated chain and pendant with a crystal;
 metal chain;
 a medium-sized string of pearls;
 small pendant on a leather cord.
Jewellery to impress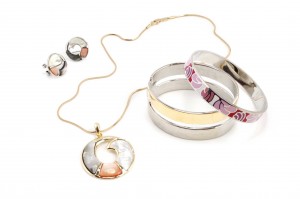 Making a good impression on a first date is no less important. Preparation for it should be as follows: every detail of your image thought through (for walks, cafes, the cinema), beginning with the hairstyle and ending with the clothes.
Girls should choose from romantic, classical and original jewellery. They are easy to combine with different outfits and images, and are appropriate for any venue.
For men, it's important to take care of appearance and also consider details such as the choice of location, flowers and so on.
As for jewellery, for men, it tends to be more symbolic or religious in nature.
| | |
| --- | --- |
| Options for her: | Options for him: |
| set of pearls; | leather bracelet / strap / chain; |
| a set of small delicate roses and other flowers / plants; | pendant-pendant; |
| sets in the form of hearts, butterflies, animals; | ring. |
| gold sets with transparent crystals. | |
Wedding Jewellery
No need for expensive jewellery on your wedding day, instead you can buy exquisite Swarovski jewellery, or other makes with artificial precious stones and high-quality metals.
The harmonious image of the bridge and groom is something the future newlyweds should look for in the selection of wedding accessories and decorations.
| | |
| --- | --- |
| Wedding options for brides: | Wedding options for the groom: |
| luxury jewellery alloy with gold or silver-plate; | ring; |
| jewellery alloy plated with gold and silver with semi-precious pearls or coral; | pin (or brooch) for a tie; |
| wedding jewellery sets (necklace / necklace + earrings, necklace / necklace + earrings + bracelet, etc.); | bracelets; |
| designer jewellery custom-made from various materials with sequins, beads, semi-precious stones, fabrics. | necklaces; |
| | earrings. |
Party jewellery
There are many options for a great variety of parties, including corporate parties, themed, holiday, private and home. But for Cyprus, where there is almost all year round sunshine, the most popular parties are beach, club and foam.
Each of these suit flamboyant, extravagant, daring jewellery, with a variety of geometric shapes, bright colours and combinations of materials.
| | |
| --- | --- |
| Options for the girls: | Options for clubbers: |
| stacked ring; | massive ring / metal seals with inserts of glass / stones; |
| bulky bracelets; | woven bracelets / smooth (can be multiple and in conjunction with a watch); |
| massive necklace; | metal bracelets with large / small units or alloy; |
| pendants with inscriptions and names; | beads made of large stones etc. |
| pendants in the form of skulls, guns and so on. | |
Regardless of our preferences, capabilities, areas of activity, jewellery helps to elevate the mood and create a unique image for all occasions.