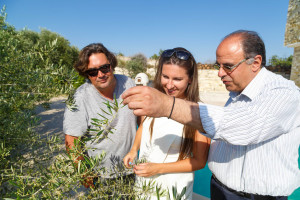 Terra Oliva olive farm was created in 2001 by Sophocleous family with love and respect to nature, and passion for biological cultivation and olive products.
Terra Oliva farm is located close to one of the most popular Cyprus tourist routes leading to Machairas Monastery, in the  area of Lefkara village, which is also a part of Larnaca region. A pleasant drive to Terra Olive farm will take  approximately within 40 minutes drive from Nicosia, 25 minutes drive from Larnaca and 35 minutes drive from Limassol.
Terra Oliva farm is using modern and most advanced technologies and production facilities made from stainless steel and the latest models of olive mills.
Olive trees in Cyprus
Terra Oliva farm has more than 7000 olive trees and hundreds of eternal olive trees aged between 300 and 1000 years.
Terra Oliva owners are especially proud of the eternal olive tree, which is more than one thousand years old, has a special certificate and is protected by Cyprus Government.
Organic olive products in Cyprus
Terra Oliva is dedicated to offer olive products of the highest quality.
The signature product of Terra Oliva farm is Extra Virgin olive oil, which is one of main components of a well balanced and healthy diet.
Certificates of olive products
Biological olive products:
Biological olive oil (bottled, unfiltered);
Variety of olives;
Olive paste;
Traditional olive sweets;
Olive jam;
wine;
souvenirs with olive design;
handicrafts made from olive wood;
collection of olive containers.
Photo Gallery