Vet Cross Profile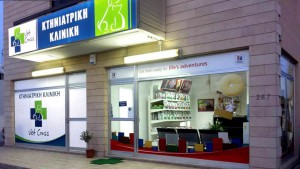 Vet Cross veterinary clinic is situated in Nicosia. It has everything to make your pet feel healthy and happy – the clinic is equipped with top class diagnostic and therapeutic equipment and all staff are highly trained, warm and welcoming animal lovers.
«We love your pets as much as you do» – this is the motto of the clinic. So, at the Vet Cross clinic you can be sure that your pet will get the best treatment, care, attention, affection and care.
Veterinary services in Cyprus
Vet Cross is equipped with the latest technology and offers everything necessary for the care and treatment of your beloved pet, including hospitalisation and surgical procedures.
The Vet Cross veterinary services offer the following:
Vet diagnosis
Ultrasound
Blood analysis
Surgery
Dentistry
Grooming
All the above mentioned services are provided for dogs, cats, rabbits and all kinds of rodents.
Grooming  in Nicosia

Moreover your pet can benefit from a full range of services at Vet Cross– not only diagnostic, therapeutic and preventative, but also aesthetic at the clinic's grooming salon.
Prevention of diseases
Regular visits to the veterinary clinic, examination by a veterinarian, timely vaccination and de-worming – this is the most effective method of disease prevention, health maintenance, and the tone of pets.
The staff of the Vet Cross veterinary clinic remind their customers about upcoming appointments so you do not miss the next visit.
A balanced diet for cats and dogs
Оne of the most important factors affecting your pet's health is a proper balanced diet. In the Vet Cross clinic you can also purchase vitamins and special food for cats, dogs and other pets. Qualified staff will help you select the best diet for your four-legged friend.
After all, a healthy pet is a happy owner!
Cyprus Inform discount card offer
Home treatment
20% on all vaccinations, microchips, spay/neuterings dogs and cats, grooming
Photo Gallery