Cyriot Winery Ktima Gerolemo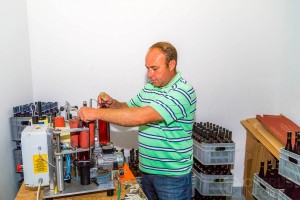 The Ktima Gerolemo Winery opened its doors to customers in February 1989.  It is situated on 127 acres of land, at a height of 900 metres, two miles to the north-west of the village of Omodos in the very heart of this wine making region, one of the six wine routes organised by the Cyprus Tourism Organisation.
The owner of the winery, Afinodoros Afinodorou, studied in Kharkov, Ukraine, to be a pharmacist, and this knowledge of chemistry helped him continue his father's business.  Afinodoros doesn't just make wine using ancient recipes, but also experiments with new species of grape and those not typical to Cyprus.
Wine tasting in Cyprus
More than 10,000 people visit the winery each year and enjoy the hospitality of the owner.  On your visit you will learn about the principles of organic grape production, and the secrets of wine and wine making.
Guests are offered Cyprus wines and appetisers to taste, and will hear a story about each type of wine.
Whilst enjoying a breathtaking view of the valley and vineyard, breathe in the aromas of the wines.  Good wine is always unique; the taste is influenced by the earth in which the grapes were grown and climate and weather conditions.
Cypriot Wine
Each year this small family winery produces more than 960,000 bottles of wine.  Ktima Gerolemo wines are sold under the same brand, and you can purchase them at the winery and in the large wine shops all over Cyprus.
The winery has received a significant number of awards in the last few years, whilst the wines themselves have received top awards at the various international exhibitions around the world.
A Tour to the Winery
The doors of the winery are open for wine tasting and fun 7 days a week:  Monday – Saturday from 10:00 – 17:00, Sunday from 11.00 – 17.00.
Photo Gallery